RICHMOND — There was a slight twinge of anxiety rushing through Keenan Robinson last Monday as he strapped on his pads before practice. It had been over a year and a half since he last took comfort in their confinement — Nov. 22, 2012, to be exact — and though he had been playing football since he was 7 years old, there was something unsettling about the layoff.
It's not that he wasn't ready. In some regards, Robinson was too ready.
"No matter all your physical talent — you can have all that — but mentally if you're not prepared, if you don't know the plays, if you don't know what you're doing in every situation, the coaches will not trust you on the field," Robinson said. "They know that I know everything and that they can rely on me."
---
SEE ALSO: Washington Redskins vs. New England Patriots: 5 questions
---
Such confidence was gained over the last two seasons, when Robinson toiled as Washington's mike linebacker-in-waiting. The heir to London Fletcher's throne, the 16-year veteran finally abdicated in January, giving Robinson a clear path toward a starting role.
That is, assuming Robinson can stay healthy. Two torn pectorals — his right in 2012, and his left on the first day of training camp last year — have interrupted Robinson's physical development. To date, he has played in 11 games and made only nine tackles since being drafted out of Texas in the fourth round two years ago.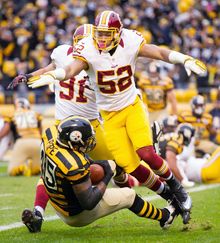 The Redskins were sufficiently worried about Robinson that they laid out contingency plans during the offseason, signing three inside linebackers who made a combined 20 starts last year — Adam Hayward, Darryl Sharpton and Akeem Jordan — in case he wasn't able to recover.
---
SEE ALSO: Brandon Meriweather set for higher-impact, lower-cost season
---
By the end of the organized offseason workouts, Robinson had proven he had.
"I've felt comfortable with him running the defense," said defensive coordinator Jim Haslett. "I think the only thing that you question right now is, 'Let's go out and play and tackle and see what you can do and if you can stay healthy,' because every time he's tackled someone the last two years, he got hurt."
When the Redskins overhauled their coaching staff in January, they kept Haslett but jettisoned Bob Slowik, the linebackers coach during Robinson's first two seasons. They also kept the same defensive principles, meaning those two years Robinson spent learning the scheme were not for naught.
That knowledge was also a large part in the reason why the Redskins chose to keep Robinson at mike linebacker and not switch him with Perry Riley, who has been the team's other starting inside linebacker, the jack, for much of the past three seasons after he was drafted in 2010.
As the mike linebacker, Robinson is responsible for making the calls and checks on defense — a role that would seemingly better suited for the more-experienced Riley.
"To switch us in the last year, it'd be kind of dumb, if you ask me," Riley said. "The coaches felt the same way, so they kept me at jack, kept him at mike … [and] it's not as different. It's not as hard, so it's working out."
The communication, thus far, has not been an issue, Riley said. Though it has been different hearing Robinson's voice and not that of Fletcher, who had been with the Redskins since 2007, Riley hasn't found a need to correct, or even assist, his teammate.
"Instead of me trying to tell him what to do, we're just communicating what we think we're going to get from the offense based on the formation they're giving us, the splits, who's off the ball, who's on the ball," Riley said. "We're communicating about that instead of communicating about, 'You have the seam,' or 'You have the three receiver.' He already knows what he has to do."
Of course, all that preparation means nothing without results. The coaching staff has not been able to sufficiently evaluate Robinson's ability to tackle, and despite a handful of full-pad practices, it may not be until at least Thursday, when the Redskins face New England in the preseason opener, that such an assessment can be made.