RICHMOND — It didn't take more than a few minutes of sharing the same practice field with the New England Patriots on Monday morning before DeAngelo Hall started lobbing verbal barbs toward his guests.
Ever the gracious host, Hall wanted the Patriots to know that they were on his territory. If that wasn't clear, the hit he laid on wide receiver Kenbrell Thompkins minutes into 11-on-11 drills surely made them feel welcome.
"Me and him did a little bit of chirping early on, so you know, it was definitely nice to just finish on the ball and simulate some live-type situations," said Hall, who again jawed at Thompkins after he got up but then offered an appreciative pat on his helmet. "But, you know, the real test is going to be Thursday. We're going to go out there and really get to tackle to the ground."
---
SEE ALSO: LOVERRO: Redskins' preseason opener features plenty to watch, starting with QB
---
After nine days of intrasquad scrimmages, the Redskins finally had the opportunity to practice against — and hit — someone who wasn't a teammate. The Patriots, who have perfected the art of the two-team practice over the past several years, arrived late Sunday for three days of work leading up to the teams' preseason opener on Thursday.
The feel of the practice was different from the very beginning, when the Redskins, who have routinely opened their mornings with special teams work, returned the kickoffs of Stephen Gostkowski instead of Kai Forbath and Zach Hocker.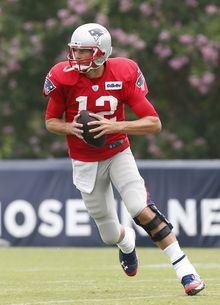 They returned the favor, with Forbath and Hocker kicking off to the Patriots' return specialists, before the teams separated for positional drills. A period of 11-on-11 drills followed — including Hall's hit — before additional positional drills, two separate 7-on-7 sessions, more special teams work and one final, controlled 11-on-11 scrimmage situation.
---
SEE ALSO: Bill Belichick recounts history with Redskins
---
"You go against new people every day in these camps, and now that we're here in Washington, you don't know them," said Patriots nose tackle Vince Wilfork. "It wasn't all perfect, but at the same time, just the feeling that we have to come out and practice against somebody else — that was a good feeling."
The process of putting the scrimmages together began in April when the NFL announced the preseason schedule. Noting that the Redskins would host the Patriots in the first game, New England coach Bill Belichick, who has scheduled joint practices in recent years with New Orleans, Tampa Bay and Philadelphia, reached out to Jay Gruden and general manager Bruce Allen to gauge their interest in a similar arrangement.
An agreement was struck in May, and a series of conversations in June allowed the two coaches to finalize additional details. The specific practice plans were finalized in recent days when Gruden and Belichick compared what, exactly, it was that they felt they needed to work on.
One example: The first 11-on-11 session was geared toward the run game, with both the Patriots and the Redskins trying to advance the ball on the ground more frequently than through the air.
"As the head coach of an NFL team, you don't really get many opportunities to see what other people are doing," Belichick said. "You can go around to some colleges, but that's a little bit different setup. In the NFL, this is like one of the few opportunities that we have to be able to work with another staff, another team. You always pick up something because there's a lot of outstanding coaches on this team, whether it's a coaching point or a drill or something that they do. I'm sure we'll be able to take a few things away from here."
Unlike in most games — but typical of the first two preseason contests — neither the Redskins nor the Patriots scouted their opponent before meeting for practices. That led to, at times, a more disjointed feel than expected; during one series in team drills, Patriots quarterback Tom Brady found wide receiver Julian Edelman in space on three consecutive throws.
Redskins quarterback Kirk Cousins also took advantage of a breakdown in New England's secondary to connect with wide receiver Aldrick Robinson on what ended up being a 70-yard touchdown throw.
"Football is a fun game, and any time you're in training camp and you get to go against your defense every single day, it can get monotonous," said Redskins quarterback Robert Griffin III. "For Coach [Gruden] to break it up … with a joint practice — I think it was enjoyable. I think guys did a good job of keeping each other healthy and staying up and playing hard at the same time."
The Patriots, who had to dress off-site and bus in because of the size of the facilities, did not return for the afternoon walkthrough, when Gruden said he planned to go through several of the corrections from the morning session.