EXCLUSIVE:
The president of Nigeria disclosed Monday that his government is using third parties to talk to Islamist extremists and try to secure the safe release of the 200 schoolgirls they kidnapped, saying military action could prove too deadly.
In an exclusive interview with The Washington Times, President Goodluck Jonathan also said that U.S. help during the schoolgirls crisis has not produced any results.
---
SEE ALSO: Boko Haram abducts wife of Cameroon's vice prime minister
---
"They have been with us for over a month, and we have not been able to get the girls out," he said. "So you really see that the help has not yet resulted [in] something positive. I wouldn't say they have helped or they have not helped. Basically they are there to help with intelligence gathering and so on."
In Washington for an African leaders' summit with President Obama, Mr. Jonathan directly addressed the criticism both inside his country and abroad to his response to the terrorist group Boko Haram's kidnapping of the girls from the town of Chibok in April, saying a swift military response likely would have resulted in the death of the children.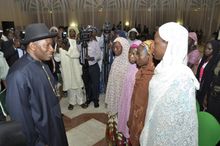 "We have not been able to get [an answer]. How do we get these girls out?" he said. "If it is to risk a few dead bodies, it is easier. You can blast the place and carry the corpses. But is that what we have to do? So it is delicate, and that's why we are proceeding with caution."
Mr. Jonathan, who faces re-election in 2015, disclosed that he has authorized third parties to try to secure the girls' safe release.
"Negotiations from Day One. We have set up a committee — what I call a dialogue committee — [for] the challenge we have in the north, even before the kidnapping of the Chibok girls. We have a team. And we encourage people to assist them. We do negotiate," he said. "Quite a number of people have come with different information. We encourage them. But none of them have yielded any results."
Nigerian and U.S. advisers to Mr. Jonathan immediately clarified his remarks after the interview, stating the Nigerian government was not directly negotiating with Boko Haram but instead using intermediaries.
"The president is not negotiating with Boko Haram. He is, however, encouraging dialogue between the sect and the government," said Lanny Davis, a former Clinton White House adviser who has been advising the Jonathan administration on international media strategy related to the crisis.
"Recently, even before the girls were taken, he set up a committee to dialogue with Boko Haram. Currently, there are third parties reaching out to Boko Haram to secure the safe return of the girls, and the administration is actively encouraging these backroom initiatives," he said.
The kidnappings fueled international outrage and spurred a social media campaign in the West with the rallying cry of "#BringBackOurGirls."
Mr. Jonathan, who belatedly accepted offers of help from the Obama administration to find the girls, said American help hasn't produced any measurable results.
Mr. Jonathan took baby steps on the carpet of his hotel suite to demonstrate the impact so far of the effort by the US and other global allies to help his country finds the girls — "one fraction of a centimeter."
"It's like when we are learning elementary physics in secondary school, and they will define 'walk' as 'effort by distance,'" he said. "No matter what the effort, if you don't move the load by a distance, the walk is zero. The effort I put, multiplied by zero, is zero. No walk. Yes, they are doing something, but no result yet."