On a recent summer day, the Church at Severn Run was overrun by juvenile spies dashing about the sprawling religious center in a race against time.
At stake was the faith of the world. With the help of top-secret teamwork, all biblical mysteries had been solved by lunchtime and the young sleuths were headed home, the newest graduates of LifeWay's Agency D3 2014 Vacation Bible School.
The nearly 400 children enrolled in the Bible school represent a fraction of the thousands of young people who attended a faith-based camp this summer. A study from the Barna Group shows attendance rates at summer religious schools have remained relatively constant for the past 15 years, but analysts and church leaders said these programs are in the midst of major change.
---
SEE ALSO: Higher Ground: 'Holy' horror film set to premiere
---
---
PHOTOS: Bible schools for families of all faiths
---
"It's more of a smorgasbord," said Clint Jenkin, vice president of research at the Barna Group. "When I was a kid, you'd just go to whatever [church] you attended, or you'd go to the closest one. We're seeing more people branching kind of shopping around. It's based more on convenience of time, having what parents need, and what a parent's schedule is."
Barna surveyed about 600 Protestant pastors and compiled the results midsummer last year. Mr. Jenkin said the results reflect what is happening in churches and other houses of worship across the country.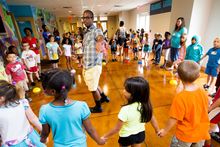 According to the survey, 81 percent of U.S. churches offered vacation Bible school in 1997, compared with 68 percent in 2012. The most common reason for dropping summer school was a lack of volunteers.
Of the churches that hosted Bible school, more than 90 percent were Southern Baptist and had operating budgets of more than $500,000. The majority of the churches also had large congregations, often more than 250 people, and leaders who were younger than 50.
If the Church at Severn Run in Maryland's Anne Arundel County is missing anything in its summer program, money and volunteers are not part of it.
Steve Houston, children's pastor at Severn Run, said the program has enough volunteers to allow for a regular rotation through a break room while helping 390 students through lessons in the 42,000-square-foot facility.
Mr. Houston said the camp costs $7,000 to $8,000 and is offered at no charge.
"It's expensive, it's a dedication for the congregation putting into the budget," he said. "But when you're looking at our database, our goal is to reach out into the community."
Walking with his daughter on the last day of Severn Run's Bible school, Chris Holcomb said 10-year-old Rebeca hadn't attended Bible school in a while but wanted to go this year.
"It breaks up the summer," he said. "They do a good job of combining fun and learning."
Sandra Santiago said her 7-year-old son, Hector, has been attending the Bible school for many years. Both liked how the lessons taught "more ways to be kind to others."
Teaching children how to apply faith lessons to their lives is the goal of Camp Kibbutz at Ohev Sholom: The National Synagogue in the District of Columbia.