As the armed forces shrink and withdraw from some global hot spots, their agenda for the battle of the sexes grows.
The Pentagon under the Obama administration has devoted considerable hours in public and private to sorting out same-sex relationships, the roles of women in the foxhole and ways to stop sexual assaults. Now, another issue has arisen: gender transformation.
The sexual revolution has some traditionalists wondering whether the Pentagon is taking its eye off the ball — the enemy.
"Every conceivable form of PC is being enforced upon our hard-pressed military with a zeal that only a Russian army zampolit — a political officer — would truly appreciate," said Ken Allard, a retired Army colonel and commentator. "We are seemingly concerned about everything except the most basic thing: how to fight and win the nation's wars. If we have forgotten that constraint, let me assure you that our enemies have not, from the Taliban to the drug cartels to the Iranian Quds Force."
Defense Secretary Chuck Hagel has made stamping out sex abuse a top priority, having met with President Obama, delivered public statements and appointed a board to recommend fixes.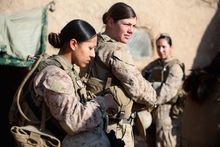 Meanwhile, the Army, Marine Corps and U.S. Special Operations Command have immersed themselves in surveys and studies to evaluate physical standards for direct ground combat. It's a two-year lead-up to putting women in infantry, tank and commando units.
The process is time-consuming and daunting. The Pentagon has made it clear that it does not want to retain irrelevant standards that women cannot meet — and it wants women introduced into combat units in sizable numbers to develop mentoring and female camaraderie.
"Yes, there is too much focus on social issues in the armed forces driven by external proponents with special interests, focused agendas and, in many cases, lack of knowledge about the armed forces," said retired Gen. Carl Mundy, Marine Corps commandant from 1991 to 1995. "The military services are without question the most open element in our society, and the very nature of that openness, together with the fishbowl in which they exist, make them ripe and easy targets for activists with an agenda."
Women and the Corps
The Marines in particular face a challenge in finding enough women, who make up 7 percent of the Corps. Women account for 14 percent of Army soldiers.
Before retiring as Marine commandant in 2010, Gen. James Conway testified before a congressionally created commission on military diversity. He said he doesn't believe Marine women want to be in land combat.
"I don't think you will see a change because I don't think our women want it to change," Gen. Conway testified. "There are certain demands of officers in a combat arms environment that our women see, recognize, appreciate, and say, 'I couldn't do that. In fact, I don't want to do that because I don't think it best prepares me for success if I am trying to do those things against the male population at lieutenant, captain, major and lieutenant colonel [ranks].'"
"Now that's not to say that we don't have women doing a tremendous job in combat where you have a pretty amorphous environment, no real front lines in a counterinsurgency environment. And their contributions are appreciated and recognized and rewarded," the commandant added.
"In talking to them, I think they feel like that's probably enough. So I don't see the day coming where we would change our culture necessarily and, in the process, go against what I think the vast majority of our women would want to see — stay pretty much like it is."
Since autumn, six female Marine officers have tried to complete the mandatory combat qualification course. All failed or dropped out because of injuries. The Corps now is attempting to compile a checklist of physical attributes that identifies female officers who can perform direct ground combat. It plans to apply the same inventory to enlisted Marine women.