EXCLUSIVE:
Hoping to woo voters overseas in time for the 2016 presidential election, the Republican National Committee is poised to join Sen. Rand Paul's fight to restore privacy rights and financial relief to nearly 8 million U.S. citizens living abroad, The Washington Times has learned.
The Republicans Overseas project would make a concerted effort to register citizens abroad as GOP voters while the RNC steps up pressure to reverse a provision that Democrats pushed through Congress in 2010 that critics say stripped Americans overseas of certain financial privacy protections.
---
SEE ALSO: RNC: 'Welcoming new people' is our 2014 goal for GOP
---
A resolution to repeal the law has won the support of key RNC committee members and is slated for a vote during the party's annual winter meeting this month. Key Republicans said the move could give the party a leg up in the race for overseas votes, a bloc that Democrats have dominated in recent years.
The issue involves the Foreign Accounts Tax Compliance Act that the Democrat-led Congress enacted in what sponsors said was an effort to target tax evasion by U.S. nationals abroad.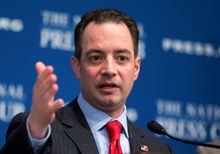 The law empowers the Internal Revenue Service, without warrants, to require foreign banks to provide information about the bank accounts of overseas Americans. That burden has caused some foreign banks to stop offering accounts to Americans.
As a result, many U.S. citizens say they are having trouble establishing bank accounts overseas. Some even have renounced their American citizenship to avoid compliance with the law.
Time magazine reported a sevenfold increase in the number of Americans renouncing their citizenship from 2008 to 2011, and the banking law was blamed for some of that. Renunciations by citizens abroad surged to a record last year, and some cited the banking law.
Mr. Paul, a freshman Republican from Kentucky, has led the battle to reverse provisions in the 2010 law that he says violate citizens' right to privacy. The RNC effort goes further, seeking an outright appeal of the law.
Overseas objections
The State Department in May estimated that 7.6 million U.S. citizens live and work in other countries. Organizers of the RNC effort believe the GOP could win support from Republicans, independents and some Democrats living abroad who resent the financial and privacy impact of the 2010 change.
"The law as it stands forces U.S. citizens to make a modern day's 'Sophie's choice' between their love for their country by not renouncing citizenship and their love for their families by continuing to provide for them without banking services," said Solomon Yue, a prominent RNC member from Oregon who is leading the charge on the issue.
Obama administration officials continue to defend the law. Robert Stack, deputy assistant Treasury secretary overseeing international tax affairs, said in a September blog post that the U.S. law is "rapidly becoming the global standard in the effort to curtail offshore tax evasion."
He dismissed what he called myths about impacts of the Foreign Accounts Tax Compliance Act, including that it imposes "overly costly" and complex regulations on banks, that U.S. citizens living abroad will be outcasts in the international banking market, that foreign banks have become extensions of the IRS, and that expatriate Americans will give up their citizenship in droves to escape the law's reach.
"U.S. taxpayers, including citizens living abroad, are required to comply with U.S. tax laws," Mr. Stack said. "Individuals that have used offshore accounts to evade tax obligations may rightly fear that [the Foreign Accounts Tax Compliance Act] will identify their illicit activities. Yet a decision to renounce U.S. citizenship would not relieve these individuals of prior U.S. tax obligations, and might well create additional" tax obligations.