Thousands of pro-life activists donned scarves, gloves and knit hats Wednesday to brave the blowing snow and arctic temperatures on the Mall as the 41st March for Life was punctuated by an unusually blunt exchange between the Republican and Democratic Party leaders that signaled a shifting fight for female voters.
Democratic National Committee Chairwoman Debbie Wasserman Schultz opened the barrage, accusing her GOP counterpart, Reince Priebus, of rallying "against women's rights" and assailing Republicans for spending "more time fighting to restrict the rights of women to make their own health care choices."
"This is not what the American people are looking for," she declared as Mr. Priebus and other Republican National Committee members delayed the start of their annual winter meeting so they could march in the pro-life rally.
---
---
Organizers of the annual march launched in the aftermath of the landmark Roe v. Wade Supreme Court decision prepared for such rhetorical attacks, expanding the theme of this year's event to emphasize adoption as a pro-life option for women considering abortions.
With a message coordinated with the march, Mr. Priebus and his Republican charges shot back at the Democratic efforts to paint the GOP as extreme and unfriendly to women.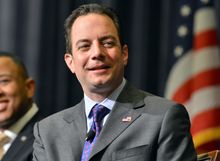 "I attended the March for Life to show both my personal and the Republican Party's respect for life and to celebrate adoption," Mr. Priebus told The Washington Times. "As a party, we believe life is a gift worth protecting, and the march is an important cause."
Holding a sign that read "to the mothers of our 4 children, 'thank you' for their lives," Jim and Ellen Storey of Prince George's County, Md., joined participants to celebrate adoption and focus on what can be done to promote a "culture of life."
"I sincerely believe that a fetus is a living being, and every being deserves a chance," said Mrs. Storey, 66, who raised four adopted children along with two biological children. "I never had that feeling [of regret]. It's important for people to understand that adoption is an option."
Democrats have spent the past decade peeling female voters away from the GOP by portraying the party as male-dominated, female-unfriendly and extreme in its efforts to keep women from making their own health care choices on abortion and birth control. Ms. Wasserman Schultz led the charge Wednesday.
"As long as Republicans throw obstacles in their way, Democrats will continue to stand up for women and protect access to health care," the Florida Democrat said.
The GOP response has been tepid for several elections, but Mr. Priebus and the RNC signaled that they plan to counter rhetoric about a "war on women" with more aggressive communications and emphasis on neutralizing issues like adoption that share wider popularity among moderates and independents.
RNC delegates were to consider this week a resolution demanding that the organization should not support a "strategy of silence" when it comes to Republican candidates and life issues.
"Candidates who stay silent on pro-life issues do not identify with key voters, fail to alert voters to Democrats' extreme pro-abortion stances, and have lost their elections," the resolution states. "Staying silent fails because this strategy allows Democrats to define the Republican brand and prevents the Republican Party from taking advantage of widely supported pro-life positions: to attract traditional and new values voters."
Though Democrats have made electoral gains with women, polling suggests Republicans could reclaim lost ground: 57 percent of Americans declared in a CNN poll this month that abortion is "morally wrong." And 49 percent of likely U.S. voters told a Rasmussen poll that they believe there should be a waiting period before a woman can get an abortion.
"It was pathetic to see the chair of the Democratic National Committee bash our members for attending a rally whose theme was 'Adoption: A Noble Decision,'" RNC Communications Director Sean Spicer said. "The marchers have traveled from all across the country to take a stand for the value of life and to celebrate adoption and it's sad the Democrats have made supporting life a partisan issue."