President Obama has been losing his TV audience — literally.
With the State of the Union proving ever less entrancing for viewers, the White House is desperate to turn the speech into a multiday event in an effort to bolster interest in Mr. Obama's policies, even if people don't tune in to hear his words.
With online question-and-answer sessions, a "virtual road trip" scheduled for Friday and a presidential video, the White House is determined to spread Mr. Obama's message beyond Tuesday night's hourlong address.
---
SEE ALSO: Obama to use SOTU to showcase executive action, will raise minimum wage for federal contracts
---
"Literally, the conversation never ends," said Lee Rainie, director of the Pew Research Center's Internet & American Life Project.
The recent tradition is for presidents to deliver their State of the Union address, travel to several key cities, then head to the legislative trenches to fight for their key policies.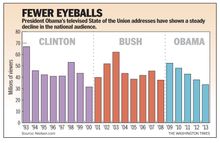 Mr. Obama has travel planned for Wednesday and Thursday with stops in Prince George's County, Md., Pittsburgh, Milwaukee, and Nashville, Tenn. But he also has a lot more planned.
---
SEE ALSO: Obama's state of the world: Freedom lost
---
In an email to supporters, the White House urged Americans to "stick around after the speech" and go online to see White House aides expand on the key parts of the president's address. The email also invited supporters to tweet their favorite moments and encouraged them to come back later in the week for more question-and-answer sessions, including Friday's video exchange with the president.
"No matter how you watch, we have a version that fits your experience," the White House said in its email.
Last year's address was viewed by 33.5 million people, down from the 52.4 million who saw Mr. Obama's first address to a joint session of Congress in 2009, according to Nielsen ratings. The 2013 total was the second-smallest in two decades, barely topping the 31.5 million who saw lame-duck President Clinton's final address in 2000.
Just as important, viewers are more split than ever before.
When Mr. Clinton delivered his first address to a joint session in 1993, Nielsen tracked viewers on just four networks: ABC, CBS, NBC and CNN. Last year, there were at least 16: Fox, ABC, CBS, NBC, PBS, Azteca, UNI, MFX, CNBC, CNN, Fox Business, Fox News Channel, MSNBC, Current, Centric and GALA.
The White House seemed intent this year on reversing the declining interest. It has sent repeated emails asking supporters to tune in and has kept tight hold on details of the speech, though it has released a number of photos of the president and his aides working on it. The text is always sufficiently blurred in the photos to prevent any early hints.
Analysts have no estimate of how many people will get their news about the speech from social media alone, but many viewers also are likely to follow it online to comment and to see how others are responding.
Mr. Rainie said that is the "meaning-making process" that comes alongside the speech itself. He said research has shown that many voters — including those who watch televised political events — don't make up their minds until they have heard from fact-checkers and pundits.
In the social media age, he said, that happens in real time — and the White House wants to be the biggest part of that conversation.