Confusion, light-headedness, numb fingers and toes — and that's before the potentially fatal irregular heartbeat.
Meteorologists are calling for temperatures not seen in the District in 20 years thanks to a swirling mass of Arctic air, and officials warned that the sub-zero weather could cause more than discomfort without the proper precautions.
"When you get that feeling like you can't feel your fingers anymore or it's so painful you can't feel your fingers, you definitely need to head inside," said Dr. Leana Wen, an attending physician and director of patient-centered care research in the Department of Emergency Medicine at George Washington University.
---
SEE ALSO: Frigid weather strains fuel supplies at U.S. utilities
---
"You should always cover up, any time it goes below freezing, including with the wind chill," she said. "Make sure to cover your extremities. Make sure you're wearing gloves, scarf, ear muffs."
The current forecast for Washington Dulles International Airport on Tuesday is a potentially record-breaking 3 degrees. The current forecast is 7 degrees for the District, where the record low for Jan. 7 was 5 degrees in 1884.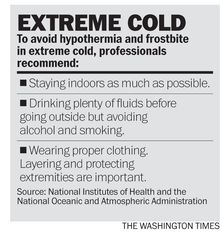 While Tuesday's single-digit temperatures means a break for some — school districts in Prince William, Stafford and Fairfax counties were closed, and Prince George's County and Arlington County schools announced a two-hour delay — in the eyes of medical professionals, it means two things: hypothermia and frostbite.
"Frostbite is exposure of your extremities," Dr. Wen said. "It could happen everywhere," she added, but fingers, toes, ears and noses tend to be common victims. "Initially it's very uncomfortable, then very painful. It's the equivalent of a burn, permanently damaging your tissues."
Dr. Wen also warned that efforts to keep warm can be dangerous if residents are not careful. People put themselves at risk if they use a gas-powered grill indoors or attempt to warm their car engine with the garage door closed.
"Carbon monoxide is an odorless, fatal gas," she said. "You don't smell it coming."
While residents are urged to take precautions at their homes, the District and local governments were lending a helping hand to the homeless.
The District was on a hypothermia alert and had shelters open for those without a place to stay. Arlington County announced it would keep its emergency shelter open all day Tuesday. Charles County in Maryland and Fairfax opened various community centers and libraries to the public as warming centers.
The Mid-Atlantic is not the only area of the country suffering through the "polar vortex." Weather officials said nearly 190 million people were being affected by the Arctic blast.
In Chicago, a record of 16 degrees below zero was set Monday, while wind chills drove the mercury to 40 degrees below zero. More than 2,000 flights were canceled Monday morning, and U.S. airline officials said even de-icing fluid was freezing and that fuel was slow to pump.
Jeanette Tejeda de Gomez, spokeswoman for AAA Mid-Atlantic, said sub-zero temperatures can wreak havoc on vehicles, especially batteries, tires and fluids.
"We're asking much more of our batteries these days," Ms. Tejeda de Gomez said. "As the temperature drops, it takes much more power from that battery to get your car going. If you have a really weak battery, it's going to be tough to get moving in the morning."