A surface-to-air missile blew a Malaysian jetliner out of the sky over war-torn southeastern Ukraine on Thursday, U.S. and Ukrainian officials said. Kiev and Moscow blamed each other for the deaths of the 298 passengers and crew.
Malaysia Airlines Flight 17 crashed in a region engulfed in civil war where pro-Russia separatists are battling for control of eastern Ukraine. President Obama has tried to lead the West in economic sanctions against Russia to de-escalate tensions.
Ukrainian President Petro Poroshenko called the downing of the jetliner an "act of terrorism."
---
SEE ALSO: Obama, Putin talk Malaysian flight crash, new U.S. sanctions
---
---
PHOTOS: Shot out of the sky: Malaysian airliner downing stokes tensions between Ukraine, Russia
---
An adviser to the Ukrainian Interior Ministry said the plane was brought down by a Buk surface-to-air missile. The Ukrainian military said it had intercepted communications proving that the rebels were responsible.
Ukraine's ambassador to the United Nations pointed the finger of blame directly at Moscow and its support of the Russian-speaking rebels. "It could not have happened if Russia has not supplied the terrorists with sophisticated weaponry, with tanks, with artillery and with this missile system," Yuriy Sergeyev told The Associated Press.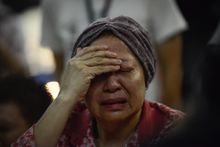 But Alexander Borodai, the separatist leader in eastern Ukraine, said the aircraft was shot down by government forces. Another rebel leader said separatists don't have weapons capable of shooting down a plane at such a high altitude.
The Obama administration scrambled to determine who was responsible for shooting down the jet and whether Americans were killed.
On Wednesday, Mr. Obama imposed more sanctions on Russia as punishment for the rebellion in Ukraine.
Vice President Joseph R. Biden said the downing was "not an accident" and that the plane was "blown out of the sky," but he cautioned that the U.S. was still seeking details and investigating reports that American citizens were aboard.
Mr. Obama said the crash "may be a terrible tragedy" and directed his national security team to seek answers.
Russian President Vladimir Putin informed Mr. Obama of the crash during a phone call about the U.S. sanctions. Mr. Putin later said Ukraine bears responsibility.
"This tragedy would not have happened if there were peace on this land, if the military actions had not been renewed in southeast Ukraine," Mr. Putin said in a statement released by the Kremlin. "And, certainly, the state over whose territory this occurred bears responsibility for this awful tragedy."
Some U.S. lawmakers expressed concern that the incident would propel the simmering Ukrainian conflict into a new dimension. Others viewed it as a reason for the Obama administration to take stronger action against Russia.
"It will have huge effect, including maybe finally we will start giving arms to the Ukrainians," said Sen. John McCain, Arizona Republican.
The Boeing 777 en route from Amsterdam to Kuala Lumpur was flying at an altitude of 33,000 feet, near airspace deemed dangerous, when contact was lost. The plane reportedly was off course because of weather.