A team of Pentagon officials is heading to Ukraine to help the country rebuild its fractured military, a mission that lawmakers and analysts expect will result in recommendations for greater military assistance in the country's fight against pro-Russia separatists amid international outrage over the downing of a commercial airplane.
Within the next few weeks, a group of Defense Department representatives who specialize in strategy and policy will head to Kiev to evaluate specific programs that the United States may want to help bolster, said Army Col. Steve Warren, a Pentagon spokesman.
Their objective is to work with Ukrainians to "shape and establish an enduring program for future U.S. efforts to support the Ukrainian military through subject-matter expert teams and long-term advisers," he said.
---
SEE ALSO: 2 Ukrainian fighter jets shot down by pro-Russian rebels
---
Rep. Duncan Hunter, California Republican, offered qualified support for the plan.
"Clearly, we have an interest in what happens in Ukraine and it's far better to have an idea of where we can maximize any support we are willing to provide," he said.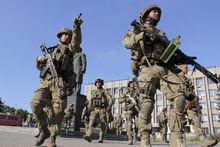 The U.S. is moving to bolster Ukraine's defense infrastructure as Russian President Vladimir Putin faces increasing pressure to cut off support to separatists who have seized control of a swath of eastern Ukraine.
---
PHOTOS: Top 10 U.S. fighter jets
---
While the international community focuses on a response to the downing of a Malaysia Airlines Boeing 777 over Ukrainian airspace, the country's armed forces have continued to press a military campaign against rebels who have largely retreated to two eastern cities and issued increasingly desperate pleas to Russia for assistance.
Mr. Putin, who showed little inclination to come to the rebels' aid with thousands of troops massed on the Ukrainian border before the airplane was shot down, has been preoccupied with publicly challenging the narrative that Russia carries some culpability for the assault on the Malaysian airliner.
The Russian president in recent days has called for a cease-fire in Ukraine and said he would press the rebels to cooperate with an international investigation into the incident, which resulted in the deaths of 298 people.
As U.S. officials disclosed Tuesday that they were nearly certain the rebels shot down the passenger plane with a Russian-supplied missile system, European Union officials went forward with increased sanctions on Russia for not acting decisively to de-escalate the Ukrainian conflict. Further and more severe sanctions were threatened if Russia does not quickly rein in the rebels.
While he continues to criticize Kiev for its counteroffensive against rebels in the east, Mr. Putin likely will "offer an olive branch" to deflect the political and diplomatic pressure his country faces, said Steve Ganyard, president of Avascent International and former deputy assistant secretary of state for plans, programs and operations in the State Department's Bureau of Political-Military Affairs.
"I think that Mr. Putin is going to look for a face-saving way to avoid an international investigation that is going to show Russian culpability," he said. "And I think he'll come in and offer a six-month cease-fire and lots of things that are going to calm down international anger, and then six months later he'll be back at it again."
Even as Mr. Putin is increasingly pressured to conciliate the international community over Russia's support for the rebels, the Defense Department intends to begin looking for an innovative way to bolster the army of the former Soviet bloc country.
Steven Pifer, a national security analyst for the Brookings Institution, said the international incident should be a clear sign to the Obama administration that now is the time to supply lethal weaponry.
Mr. Pifer, head of Brookings' arms control initiative who served as U.S. ambassador to Ukraine from 1998 to 2000, said the Ukrainians need light anti-armor weapons and manned portable air defense systems to keep the Russians at bay.