LOVELAND, Colo. — When foes of fracking complain about moneybags billionaires profiteering from "Big Oil," they're probably not thinking of people like Bob and Cristy Koeneke.
The Koenekes are wheat farmers who lease the mineral rights on their property to oil and gas producers. The royalties they receive from the leases enabled the retirees to put two sons through Colorado State University and keep up the family farming operation.
"It's not that we're wealthy fat cats," said Mr. Koeneke, a retired truck driver who farms land on Colorado's eastern plains that his family has owned for generations. "This [income] allows us to continue to farm."
---
SEE ALSO: Fracking initiatives start to fracture Colorado
---
Overlooked in Colorado's fierce political battle over the booming practice of hydraulic fracturing are the state's 600,000 mineral owners, many of whom depend on the royalties from oil and gas leases for their livelihoods. Those owners are growing increasingly alarmed as anti-fracking groups demand moratoriums or outright bans on oil and gas production in jurisdictions across the state.
The hot topic at the National Association of Royalty Owners meeting last weekend was Colorado's fracking fight. A slew of anti-fracking initiatives are proposed for the November ballot, and Loveland voters will decide June 24 on whether to impose a two-year moratorium.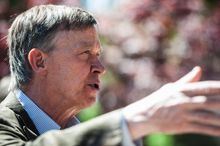 Gov. John Hickenlooper, a Democrat, is working furiously to negotiate a compromise. Last week, he proposed a "local control" bill that would give cities and counties greater authority over setbacks, inspections and noise reduction rules.
Rep. Jared Polis, a Democrat, has agreed in exchange to drop his fistful of anti-fracking initiatives as long as the draft bill remains untouched. The problem is that the proposal is meeting with opposition from business interests and environmental groups, including the very "fracktivists" the bill is intended to appease.
"This 'compromise' is a sweetheart deal for the oil and gas industry," said Laura Fronckiewicz, organizer of the anti-fracking group Our Broomfield. "The thousands of moms, dads and community members in Broomfield who voted to protect our constitutional rights were not consulted on this proposal."
Other environmental groups opposing the compromise include the Sierra Club, Food and Water Watch, Environment Colorado, Our Longmont, and Citizens for a Healthy Fort Collins.
Voters in four Colorado cities along the Front Range — Boulder, Broomfield, Fort Collins and Lafayette — approved anti-fracking measures last year. Local and national environmental groups hope to parlay those victories into a statewide win in November.
Mineral owners such as the Koenekes have remained on the sidelines, but that is about to change. Neil Ray, past president of NARO-Rockies, said owners are considering a lawsuit aimed at recovering their losses in cities that ban fracking.
The damages from such a lawsuit could be astronomical. Mr. Ray pointed to an engineering report that places the value of a 640-acre section of eastern Boulder County at $64 million for a mineral owner who is paid 20 percent on the lease over the lifetime of the production.
That number reflects maximum recovery, but "the low end is still millions," he said. If mineral owners start suing for just compensation after voters have passed a ban or moratorium, localities may find themselves on the hook for tens or even hundreds of millions of dollars.
The report, prepared by Netherland, Sewell & Associates and released Thursday, estimates that Boulder County could be on the hook for more than $1 billion in takings claims on its portion of the Wattenberg Field, one of the nation's largest oil and gas fields.
"So who pays when that court case comes and the judge finds in favor of the person whose property was taken?" said Mr. Ray. "The taxpayer living in that area, so property taxes will go through the roof. And if the property taxes go to the point where the people can't afford them, the property values drop. Because people won't be living there. They'll be selling. So the whole thing folds upon itself in a very bad way."