The last American commander in Iraq recommended to the Obama administration that 23,000 U.S. troops remain to cement the victory, but no deal was ever reached with Baghdad, and all combat forces went home.
That stalemate has come back to haunt the country as al Qaeda-linked extremists, who had been defeated by 2011, have returned to Iraq in a terrorist campaign to capture huge swaths of territory in northern and western areas.
The extremists, known as the Islamic State of Iraq and the Levant (ISIL or ISIS, for Syria), are threatening Baghdad and could be on the verge of creating an enormous terrorist state that menaces the world.
---
SEE ALSO: For any U.S. airstrike to succeed, the Iraqi army must stand and fight, experts say
---
Retired ArmyGen. John M. Keane, who advised commanders in Iraq and helped devise the 2007 troop surge, remembers how the U.S. achieved victory by working hand in hand with Iraq's military to conduct pinpoint strikes. The effort was so effective that the enemy, al Qaeda in Iraq, stopped sending killers into Iraq because they would be exterminated quickly.
In December 2011, the U.S. military left, led by Army Gen. Lloyd J. Austin III, who now heads U.S. Central Command and is studying options for helping Baghdad survive absent U.S. combat troops.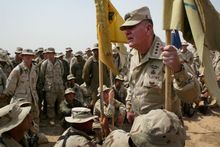 The exit was completed too soon, Gen. Keane said.
---
SEE ALSO: Obama sending 275 U.S. troops to Iraq to protect embassy
---
"As we pulled out of Iraq in 2011, just think of this: We had all our intelligence capability there. We knew where the enemy was. We were flying drones. We're tracking them. We have signals intelligence pouring in, eavesdropping on phone conversations and the rest of it. We're using our counterterrorism forces to bang against these guys. We're passing that information to the Iraqis so their commandos can do the same," the general said.
After several years of reduced violence in Iraq, the Americans left.
"On a given day in 2011, that screen went blank. The Iraqis went from a significant amount of intelligence on what was taking place, and the screen just went blank," Gen. Keane said.
Without on-the-ground guidance, the Iraqi army, on which the Pentagon spent much money and time, folded last week — too incompetent to stand and fight for the cities of Mosul and Tikrit.
Prime Minister Nouri al-Maliki's best troops, his special operations units, are not yet in the fight in the north. Meanwhile, his strategy in the western town of Fallujah is to lay siege and unleash missile strikes to try to dismantle the radical Islamists amid the rubble.
Baghdad's precarious state can be traced to what was done, then what was not, concerning a status of forces agreement with Washington.
Al-Maliki's dilemma
In 2008, President Bush and Mr. al-Maliki signed a status of forces agreement that said all U.S. troops would leave by December 2011.
Supporters of the current administration say President Obama merely executed in 2011 what Mr. Bush signed in 2008.