Jeb Bush is casting a shadow over the entire field of potential Republican presidential candidates, as the former Florida governor continues to ponder a run in 2016 and keep his political options open.
On one hand, the Bush name, a network of donors and his relatively conservative record as governor make Mr. Bush a force to be reckoned with.
But the Bush name also could work against him. Even his mother waffled on whether the country is ready for another member of her family to run for the White House.
"Asking whether Jeb Bush reshapes the presidential field is like asking whether LeBron James reshapes a basketball team," said Brett Doster, a Florida-based Republican Party strategist who worked on Mr. Bush's first gubernatorial campaign in 1993.
"If you look at the Republican field minus Jeb Bush, you have some potential stars out there, but nobody knows whether they can put together the grand effort needed to win the nomination and go on to win the White House," he said. "With Jeb, people are immediately struck by his intellectual heft. He is a serious policymaker and you get the sense that he could go all the way."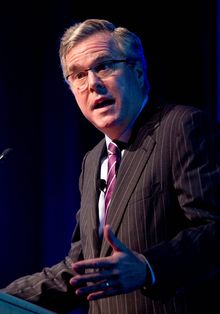 Mr. Bush has kept his cards close to vest, leaving it to Republican Party insiders and political pundits to try to decipher whether the scion to the Bush family dynasty has his sights set on the White House.
"I think Jeb is seriously looking at it," said Mel Sembler, a former U.S. ambassador and major Republican Party fundraiser from Florida.
Sally Bradshaw, a Republican Party consultant who served as Mr. Bush's chief of staff in the governor's office, said her former boss has not ruled out a run and will not make a decision before the end of the year.
"Those who thought six months to a year ago he was not considering a race were wrong," Mrs. Bradshaw said. "Those who think he's made up his mind and is definitely running are wrong."
"There is no active organization in place. He is simply going through a thoughtful and methodical process," she said. "Currently, he is campaigning for some candidates with races in 2014, just like he has done for candidates in previous years. Nothing any different there despite what people try to read into it."
On Thursday, Kyle Kondik and Larry Sabato, of the University of Virginia's Center for Politics, updated their rankings of potential Republican presidential candidates and placed Mr. Bush atop the leader board.
They said Mr. Bush is well-positioned to replace Chris Christie as the preferred candidate of the Republican Party establishment now that the New Jersey governor's image has been banged up by the George Washington Bridge scandal.
"Christie's problems have only elevated Bush by comparison, and the two men would occupy similar space in a hypothetical primary contest: The same voters and states that backed the successful nominations of John McCain in 2008 and Mitt Romney in 2012 — i.e., the ones with smaller concentrations of 'very conservative' and white evangelical voters like New Hampshire, Florida and many Midwestern states — would probably be inclined to back one of these two or someone like them," the political analysts said.
Whoever wins the backing of the Republican Party establishment will be hard to beat, they said.
"For all the Sturm und Drang regarding the tea party in the Republican nominating process, it's going to be hard for someone who lacks widespread establishment support to win the nomination," said Mr. Kondik and Mr. Sabato, referring to Sen. Rand Paul of Kentucky and Sen. Ted Cruz of Texas.