The Vatican on Tuesday for the first time detailed how it has handled more than 3,400 cases of sexual abuse reported since 2004, vowing to learn from its mistakes and potentially opening itself to more lawsuits by accepting that such abuse could fall under a U.N. treaty against torture.
The Holy See defrocked 848 priests and slapped 2,572 clergy members with lesser sanctions in the past decade, said Archbishop Silvano Tomasi, the Vatican's permanent observer to the United Nations.
The Holy See made revelation during the second and last day of testimony before the U.N. Committee Against Torture in Geneva, where the Vatican is answering questions about how it handled the clergy sex abuse scandal and whether the abuse qualifies as torture.
"The criminalization of sexual abuse of children can be considered torture. This is what you have articulated," Archbishop Tomasi told the committee. "I am not a lawyer, but I am to assume this application has to be related to the behavior of people in a measure … consistent with the convention."
The Vatican's disclosure was a positive sign for some, but advocates for sex abuse victims said more work needs to be done.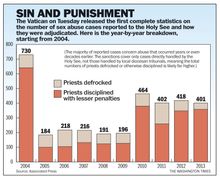 "The real issue is not how many child molesting clerics there may be; the real issue is where are they," said David Clohessy, national director of the Survivors Network of Those Abused by Priests. "Parents can't protect their children from numbers. They can protect their children from predators if they know who and where those predators are."
Mr. Clohessy acknowledged that "any disclosure … beats no disclosure," but said advocates want the Vatican to pressure bishops and other church leaders to disclose the locations of child-molesting clerics.
"It's irresponsible for bishops to say this priest is too dangerous to have in the parish, yet have him live in an apartment building with kids and unsuspecting parents," Mr. Clohessy said.
Reports from The Associated Press show that the Vatican addressed 401 cases of sexual abuse last year and about 3,400 cases in the past 10 years.
The Vatican has handled about 400 cases per year since 2010, the year the scandal spread around the world.
Before 2010, fewer sanctions were imposed on about 100 priests each year, likely because the Vatican had not directed its bishops and leading clergy to report abuse cases to authorities if local laws required it.
"The culture has changed," Archbishop Tomasi said. "There will certainly be no policy … where a priest is simply shifted around to avoid prosecution or hide a misdemeanor or crime he has committed. I think we have to appreciate the evolution of the culture."
According to the central office of church statistics in the Vatican Secretariat of State, the church has more than 400,000 priests and 5,000 bishops serving its 1.196 billion followers worldwide.
Ashley E. McGuire of Catholic Voices USA said the disclosure is a "sign of things moving forward."
"We know for a fact the bulk of abuse took place decades ago," Ms. McGuire said. "Maybe people are still coming forward, but I think the numbers show … the percentage in the last decade [of convicted priests] is higher. This shows the systems of justice are working, and that suggests cooperation and transparency."