Mayor-elect Vincent C. Gray wants to push forward with education reforms by having more collaboration between charter schools and traditional schools, an initiative supported by charter co-founder Joshua Kern.
Mr. Kern, founding president of Thurgood Marshall Academy Public Charter High School, also is being considered as the next deputy mayor for education.
"I cant really talk about it," Mr. Kern said Sunday concerning a possible slot in the Gray administration. "I cant really say anything."
The development comes as Mr. Grays alma mater, the once-elite Dunbar High School, undergoes its second transformation in as many years after Interim Schools Chancellor Kaya Henderson fired the charter organization that was managing the school.
"Obviously I want to see the school turned around," Mr. Gray told The Washington Times on Saturday. "We have a lot of successful charters in this city. Some are better than others and thats one of the reasons we want closer collaboration."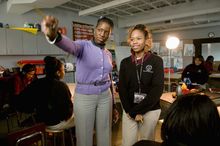 The incoming mayor said he holds Mr. Kern, who co-founded TMA nine years ago, his school and other successful charter schools in high regard.
"Oftentimes, charters are viewed as competitive because they take different approaches to governing," Mr. Gray said. "Thurgood Marshall Academy is a shining example of a successful public school."
Thurgood Marshall Academy and Mr. Gray's Dunbar High School are two D.C. schools that have a lot in common, though they are nothing alike. Both are public high schools, both are named for outstanding black Americans and both have majority-black student bodies.
But the commonality begins and ends there. Thurgood Marshall, the citys most successful non-selective public high school, is a school that works.
Students at TMA, as the school is called, rank higher on standardized tests than any other open-enrollment public high school in the city, with 72 percent of its students scoring proficient in reading and 66 percent in math on this years DC-CAS standardized test. Also, 100 percent of its graduating classes has been accepted to college for the past five years.
Neither of those accomplishments is a small matter in the nations capital, where public schools consistently rank near the bottom of the nations academic ladder. The situation is especially bad at the high schools in TMA's neighborhood. Less then 20 percent of students at Anacostia High School scored proficient in both DC-CAS categories, and Ballou didn't do much better — 30 percent of its students were proficient in reading and 26 percent in math.
Dunbar, whose alumni include D.C. Delegate Eleanor Holmes Norton, former Republican U.S. Sen. Edward Brooke, and blood bank pioneer Dr. Charles R. Drew, is an underperforming traditional school where recent rape accusations and hooliganism forced Ms. Henderson to reverse reform measures made by her predecessor, Michelle Rhee.
During a recent visit to the school, Mr. Kern, a Gray campaign adviser, said three words — "teaching and learning" — sum up what goes on inside the walls of TMA, which relocated in 2005 to the aged red-brick building that had housed Nichols Avenue School on Martin Luther King Jr. Avenue Southeast.
The school is neighbor to the Anacostia Metro Station, low-income housing, liquor stores, and mom-and-pop shops — the very environs its students dream of leaving to attend college. About 74 of TMA's students are eligible for free or reduced-price lunch.
Markysha Dickens, a senior, and junior Latrice Clyburn said TMA teachers and counselors are already preparing them for college and professional careers, and both have younger sisters who will be attending next year.