Politics is always at a boil in Washington, but until recently the people stirring the pots inside the White House kitchen didn't get much attention. That's changed, with chefs stepping out of the shadows and into TV.
Just this year, the White House's executive chef, Cristeta Comerford, competed on Food Network's "Iron Chef," teamed with celebrity chef Bobby Flay (they won). Mrs. Comerford and Bill Yosses, White House executive pastry chef, chatted with stylish-living guru Martha Stewart for a Presidents Day food segment. Meanwhile, Sam Kass, assistant White House chef, has been a guest judge on Bravo's "Top Chef," while Mr. Kass and Mrs. Comerford hosted contestants from NBC's "The Biggest Loser" last November.
And Mr. Yosses has a new book out,
"Everybody has their individual opinion, but I have noticed no discernable opinion in terms of one party or the other," said Mr. Yosses.
The man who's been called the confectioner in chief came to the White House in January 2007 to turn out cakes, pastries and cookies for President George W. Bush, who Mr. Yosses said "enjoyed dessert immensely."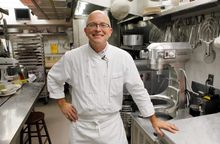 "I don't think there was a dessert he met that he didn't like," Mr. Yosses quipped.
One factor behind the heightened visibility of White House cooks is a first family enthusiastic about eating well - Mrs. Obama has developed the "Let's Move" campaign aimed at tackling childhood obesity among other things. Meanwhile, Americans in general have become more attuned to what's on their plates.
"Finally, the country's having a national dialogue about food," said Andrew Knowlton, restaurant editor at Bon Appetit magazine. "Not just restaurants and where to go, but about where our food comes from. Is the organic garden on the White House lawn going to revolutionize American agriculture? No. But people who might not have paid attention to that kind of stuff before are now noticing that and the media's covering it and that can only be a good thing."
When it comes to eating right, chefs - including those who work at the White House - make good ambassadors.
"They can help forward Michelle Obama's message about healthy eating, and who better to hear it from than a chef?" said Dana Cowin, editor in chief at Food & Wine magazine.
At the White House, Jocelyn Frye, policy director for Mrs. Obama, called the chefs "wonderful spokespeople for the first lady's "Let's Move" childhood obesity campaign.
"They have tremendous enthusiasm for the issue and many of them were involved in healthy-eating initiatives personally prior to our work," Miss Frye said. "Now that 'Let's Move' has launched, they're engaged in a more public way and they help us reach more communities in unique and different ways."
Having the chefs appear on popular programs such as "Biggest Loser" and "Iron Chef" means being able to reach a broad and diverse audience, added Semonti Stephens, deputy press secretary for the first lady.
It wasn't always that way.
During his tenure, Walter Scheib, who cooked for the Clintons and both Bush presidents, jokingly referred to himself as the "most famous anonymous cook in the country."