It's like looking for an explosive needle in a haystack spread across every major airport on the planet.
The attempt by al Qaeda in the Arabian Peninsula to send bombs via UPS and FedEx has reopened a long-standing policy debate about the screening of packages, millions of which move every day through the global air-cargo shipping system — a vital link in the supply chain for many businesses.
Rep. Edward J. Markey, Massachusetts Democrat, pledged over the weekend to introduce legislation in a lame-duck session of Congress to mandate 100 percent screening of all cargo on domestic and international flights.
But critics question the value of such rules, arguing that the best use of scarce resources is to focus them on screening the highest-risk cargo items.
"One hundred percent screening is almost impossible," Rep. John L. Mica, Florida Republican, told The Washington Times, adding that increased costs for such screening would put "thousands of people out of business and work."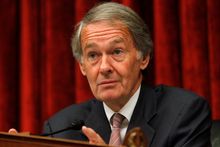 Mr. Mica is the ranking Republican on the House Transportation and Infrastructure Committee, which has jurisdiction over aviation and air cargo but also shares oversight of aviation security with the Homeland Security Committee. If Republicans win control of the House on Tuesday, he would be first in line for the gavel on the transport panel.
He and Mr. Markey have disagreed on the air-cargo screening issue before, and if Mr. Markey's bill is taken up, it may provoke a turf skirmish between the two committees.
Mr. Markey helped write a 2007 law that directs the Transportation Security Administration (TSA) to ensure 100 percent screening of all cargo on passenger planes, including all domestic and international flights arriving in and departing from the United States.
Both packages sent by the al Qaeda branch last week traveled in part on passenger flights before being intercepted by authorities in Britain and Dubai, reportedly after a tip-off from Saudi intelligence. British and U.S. officials have said the bombs apparently were designed to explode in flight and could have destroyed the planes if detonated.
Mr. Markey noted that the 2007 mandate does not cover cargo on freight-only flights and remains unfulfilled for international passenger flights. TSA officials have said it might be years before the requirement for screening all inbound cargo on passenger flights can be met.
"Al Qaeda is well aware of this loophole in the system, and they fully intend to exploit it," Mr. Markey said in a statement over the weekend. "Now is the time to finish the job."
But former TSA chief Edmund S. "Kip" Hawley told The Times that he doubts the efficacy of insisting on 100 percent screening.
In an e-mail, he questioned whether going "through the motions on something designed only to achieve '100 percent' [screening]" is more efficient than "layers of real security" involving the screening of most cargo and 100 percent of high-risk items.
"It is all about sustaining the effort and making it impossible [for terrorists] to game" the system, he said.
TSA has outsourced cargo screening on passenger flights through the Certified Cargo Screening Program. TSA sets the standards for screening, which is then carried out by shippers, distributors and freight forwarders.