Once one of the most powerful and feared Republicans in Congress, former House Majority Leader Tom DeLay was convicted Wednesday in a Texas court on two charges related to the illegal funneling of $190,000 in corporate donations to Texas legislative races.
DeLay, who earned the nickname "the Hammer" for his style as Republican whip, faces sentences of two years to 20 years for conspiracy to commit money laundering and five years to 99 years, or life in prison, for money laundering.
Judge Pat Priest, who has wide discretion under Texas law, will hand down sentences in the case at a hearing tentatively set for Dec. 20.
The jurors deliberated for 19 hours before returning their guilty verdicts.
More than 30 prosecution witnesses were called in the three-week trial, along with the introduction of hundreds of e-mails and other documents, in an attempt to prove that DeLay conspired with two associates in 2002 to circumvent a state law against corporate contributions to political campaigns.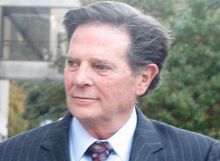 Texas has banned corporations from donating to candidates directly or indirectly since 1903.
DeLay, 63, hugged his wife, Christine, and his daughter, Danielle, after the verdicts were read.
"This is an abuse of power. It's a miscarriage of justice, and I still maintain that I am innocent. The criminalization of politics undermines our very system and I'm very disappointed in the outcome," DeLay told reporters outside the courtroom. He remains free on bond.
His attorneys made no public comments. The defense team called five witnesses to testify.
A Texas grand jury indicted DeLay and two political associates in November 2005, forcing the House's second-ranking Republican and its most assertive member to step down from his leadership post.
The four-page criminal conspiracy indictment, handed up on the final day of the grand jury's term, also targeted John Colyandro, former executive director of a Texas political action committee formed by DeLay, and Jim Ellis, who headed the majority leader's national political committee.
Mr. Ellis and Mr. Colyandro face lesser charges and will be tried later.
DeLay, the first House leader to be indicted while in office in at least a century, categorically denied any wrongdoing and accused the Democratic district attorney of Travis County, Texas, Ronnie Earle, of pursuing the case for political motives. Mr. Earle retired after securing the indictment from a grand jury in 2005.
According to the indictment, DeLay conspired with the two co-defendants to make a political contribution in violation of Texas state law. The indictment said DeLay's Texans for a Republican Majority Political Action Committee (TRMPAC) accepted $155,000 from companies, placed the money into an account and then wrote a $190,000 check to an arm of the Republican National Committee, effectively laundering the money to allow its use in state races under Texas law.
That donation, the indictment said, included a document that listed the names of Texas state House candidates and the amounts they were supposed to receive. The indictment said the defendants entered into an agreement with each other or with TRMPAC to make a political contribution in violation of the Texas election code.