COPIAPO, Chile | Carlos Bugueno is out of the collapsed mine but still lives in close quarters, sharing his small wood-and-tin house with 16 relatives. His family welcomed him home by lining the street with white plastic bags filled with air — they had no money for balloons.
Despite donations and the promise of book and movie deals, most of the 33 Chilean miners trapped more than two months have returned to lives of struggle in improvised homes, often in gang-ridden neighborhoods lacking basic services. Some worry it won't get better.
"Three months from now, what will I be doing? Selling candy on the beach? Wondering what the government has done for us? Nothing," said Edison Pena. "I'm very afraid, and I would like for things to change."
All but one of the miners have been released from the hospital since their rescue Wednesday from the San Jose gold and copper mine, where they had been trapped nearly a half-mile underground since the Aug. 5 collapse. Most returned to the mine Sunday for a Mass at the makeshift camp where their relatives had waited for them.
"It's nice to be here where our families were," said Luis Urzua, the shift foreman who has been praised for leading the trapped miners through the 69-day ordeal, especially in the first 17, days when they had no contact with the outside world and just a 48-hour emergency food supply.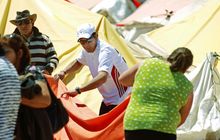 The camp on a barren hill in Chile's northern Atacama region is rapidly being dismantled. A few tents, some media motor homes and cars remain. So do 33 Chilean flags representing the miners and the flags of the U.S., Canada and Argentina, which aided in the fast-paced drilling operation that saved the men.
Miner Carlos Barrios' family was busy Sunday taking apart their encampment, which was among the first built at Camp Hope.
"I feel sorry [to leave] but at the same time, I'm happy because I'm with my son again," his stepmother, Griselda Godoy, said while packing up their camp stove.
Pulled from the mine one by one in a custom-built capsule, the miners emerged as international celebrities, complete with high-end sunglasses that doctors said were hardly necessary to protect their eyes from sun and work lights after months in darkness. Many are still wearing the sunglasses, but their lives have become less glamorous.
Many have returned to poverty in the hardscrabble neighborhoods that climb the hills around Copiapo, the Atacama region's gritty capital. Some have strained relationships with the families that held vigil, praying for their survival. All face a search for work because the mine that employed them has filed for bankruptcy.
Miner Carlos Mamani lives in a small green wooden house on an unpaved road in Padre Negro, a neighborhood on a hill where the glittering street lights of Copiapo stretch out like a carpet. But Padre Negro's 38 houses lack access to sewers and running water. Mr. Mamani and his neighbors must walk for blocks to two public taps to get water and then carry it back up the hill.
"This area is dangerous at night. Drugs are sold here, and there is theft. I've lived here for a while, and I still have to be careful to avoid problems," said one of Mr. Mamani's neighbors, 15-year-old Jose Vadillo.
Some miners live closer to central Copiapo, in a neighborhood where gangs mark their territory with old sneakers hanging from electricity poles. Mr. Bugueno is among those living in Tiltil Bajo, a neighborhood of wood-and-tin houses that lack sewage connections.
Chile's government has promised to look out for the rescued miners, and each has about $12,000 in donations waiting for him in a bank account, but the miners' futures remain uncertain. Seven of them held a news conference Saturday to plead for job training and government benefits. They also pleaded for privacy, citing the media's treatment of fellow miners Johnny Barrios and Claudio Yanez.
Mr. Barrios' wife and lover, who live a block away from each other, both arrived at the mine following the Aug. 5 collapse that trapped the miners, launching a high-profile soap opera. The wife accepted his donations, while Mr. Barrios went home with the lover.