The Justice Department on Wednesday vowed to thwart any efforts to intimidate voters at the polls on Tuesday and to ensure that the ballots of military voters are counted, as activists on both sides of the political aisle reignite their regular election-time tango over the dangers of voter fraud versus voter suppression.
Facing separate investigations in its handling of a voter-intimidation case against the New Black Panther Party and questions over the failure of absentee ballots to be sent to military personnel and their families by the legally required date, the Justice Department moved to assure voters that they will have access to the polls and their votes will be counted in the midterm elections.
The department said it is committed to the enforcement of federal laws "that prohibit voter intimidation and suppression based on race, color, national origin or religion" at the polls, and will make sure that "our men and women serving overseas have the opportunity to vote and have their votes counted."
In what has become an election-season standard, conservative activists, led by "tea partiers" this time around, have set their sights on challenging voter registration applications and the eligibility of voters — a move liberal groups label as scare tactics used to suppress minority voters. Neither side has ever proved widespread abuse of the system, and studies show that election shenanigans are historically few and far between.
In a double-barreled release of unusually lengthy press releases, along with a briefing for reporters by Assistant Attorney General Thomas E. Perez, who heads the Civil Rights Division, the department said it has implemented a "comprehensive program" to help ensure ballot access and prohibit voter intimidation, and has reached agreements or won court orders in 14 states and territories to protect 65,000 overseas and military voters ahead of the midterm elections.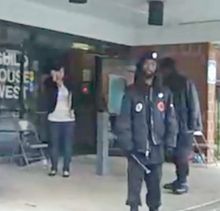 But Sen. John Cornyn, Texas Republican, said it was "outrageous" for the Justice Department to "solicit congratulation for procrastination, while many of our military voters are very likely being disenfranchised."
"The department should have been more proactive much earlier, by giving each state clear guidance on the new requirements under the MOVE Act and by ensuring from the start that each state had a satisfactory game plan for protecting the voting rights of our troops and their families," Mr. Cornyn said.
"Instead, the department sat back and watched as states tested the limits of the MOVE Act, then tried to patch problems after the fact with half-measures," he said. "Our military voters deserve better than this lethargic approach from the Department of Justice."
The Military and Overseas Voter Empowerment Act, or MOVE, enacted last year, requires states to transmit validly requested absentee ballots to voters no later than 45 days before a federal election. The act allows states to request waivers if they think the 45-day requirement will pose undue hardship. The Defense Department is responsible for determining which states will be granted waivers.
Hari Sevugan, spokesman for the Democratic National Committee, said the DNC has "confidence that voters are going to be able to go to polls and have their votes counted." He said the DNC is working with partners and officials at all levels to ensure that is the case.
In Nevada, where Senate Majority Leader Harry Reid is trying to fight off Republican Sharron Angle, both sides are flinging allegations of dirty politics.
Democrats are accusing Republican goons of staring down minority voters at polling sites. And Republicans are accusing Mr. Reid of bribing college students with free pizza.
So far, the complaints of voter fraud or voter intimidation add up to little more than unsubstantiated rumors that Nevada Secretary of State Ross Miller called "wildly irresponsible," but they could help motivate voters worried that their ballots will be miscast in a tight race.
"Sherlock Holmes and Columbo had something to start with," Mr. Miller said, referring to the fictional detectives of literature and television. "They are giving us nothing."
Later Wednesday, the FBI issued a separate press release also noting that the Justice Department is committed to the enforcement of federal laws "that prohibit voter intimidation and suppression based on race, color, national origin or religion," and will ensure that "our men and women serving overseas have the opportunity to vote and have their votes counted."