U.S. intelligence agencies remain on alert but do not think additional package bombs are immediately heading for the U.S. after the third failed attack by the Yemen-based al Qaeda in the Arabian Peninsula over the weekend.
The latest bombing attempts, along with the two earlier failures, show that while the al Qaeda affiliate is continuing to seek international attacks, "operationally, they still aren't quite there yet," said a U.S. official familiar with details of the failed attack. The official added, however, that "they are really trying."
On Sunday, U.S. officials said Western intelligence agencies now suspect that a UPS 747 cargo plane that crashed in Dubai on Sept. 3, killing two crew members, was downed by an explosive package in its cargo bay and not by an onboard fire, as initially suspected. The crash is being re-evaluated in light of the two devices found on transport aircraft in Britain and Dubai … one a UPS jet, the other a FedEx transport.
According to U.S. officials, initial forensic analysis of the bombs recovered in Britain and Dubai indicates the devices contained PETN, a chemical explosive similar to that used in the 2009 body-cavity suicide bomb that exploded close to Saudi antiterrorism chief Prince Mohammed bin Nayef, and in the bomb that failed to detonate in the underwear of attempted bombing suspect Umar Farouk Abdulmutallab aboard a Northwest Airlines flight to Detroit on Dec. 25.
The printer cartridge bombs were destined for Jewish centers in Chicago, although it is not clear how the group planned to detonate the devices once they reached their destination.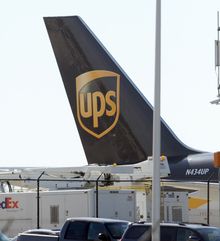 John O. Brennan, White House National Security Council staff counterterrorism director, said Sunday that it appears the bombs were intended to blow up the planes in midflight.
"We're looking at the potential that they would have been detonated en route to those synagogues aboard the aircraft as well as at the destinations," Mr. Brennan said on CBS "Face the Nation."
"But at this point we, I think, would agree with the British that it looks as though they were designed to be detonated in flight."
Mr. Brennan also cautioned, in a separate appearance on "Fox News Sunday," that the United States "cannot presume no more [explosive devices] are out there"
In his Fox interview, Mr. Brennan confirmed that officials in Yemen have arrested two women "who delivered the packages" to FedEx and UPS offices.
Hanan al-Samawi, a 22-year-old computer-engineering student, and her mother were detained Saturday after the student's telephone number appeared on one of the packages.
However, according to reports later Sunday from Yemen, police there have released Miss al-Samawi, although it was unclear Sunday evening whether her mother still was detained.
A Yemeni official told the Associated Press on the condition of anonymity that the shipping agent told investigators, upon seeing Miss al-Samawi, that she did not sign the shipping documents. Yemeni authorities now think Miss al-Samawi had her identity stolen by someone who used it to mail the bombs, the official said.
Blowing up transport aircraft is another sign that the Yemen-based al Qaeda affiliate is having difficulty conducting mass-casualty attacks and is focusing on economic targets, analysts say.
Security remains heightened for all aircraft coming from Yemen and especially cargo originating from the southern Arabian Peninsula state.