One more sign that the economy is picking up steam is coming from an aisle at the local grocery story.
U.S. specialty food sales sizzled last year in what industry experts believe is a sign consumers are regaining confidence and opening their wallets.
The specialty food and drink business picked up by 7.7 percent in 2010, representing more than $70 billion in sales, according to new research released last week by the National Association for the Specialty Food Trade. The category encompasses a broad range of non-brand-name food and drink items, from cheeses, breads and yogurt to salsa, relishes and coffee.
In 2009, specialty food and drink sales rose by only 4.5 percent. The increase last year shows consumers are now comfortable spending a bit more money on quality products, said NASFT spokesman Ron Tanner.
"A lot of people have cut out eating at restaurants. Instead of going out … they're going to stores and cooking [meals] themselves," Mr. Tanner said.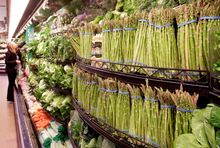 NASFT defines specialty foods as those products of "better quality made in limited quantity. In most cases, that makes specialty foods and drinks more expensive than the mass-produced, better-known alternatives.
The sector now has seen U.S. sales increase 10.4 percent from 2008 to 2010, compared to just a 1.4 percent increase for overall food sales in the same period, Mr. Tanner said.
Of the $70 billion in sales last year, $14.4 billion was purchased by the food service industry. The rest came from store sales directly to families.
Supermarkets are still the biggest seller of specialty foods, accounting for 72 percent of sales. However, Mr. Tanner said that gap is closing as natural food stores and other outlets continue to attract new customers.
All-natural products saw a big jump over the past two years, with sales rising 14.7 percent, according to the survey.
While overall sales are up in the industry, fewer new specialty foods are coming into the market. Launches of private-label products dropped to 455 in 2010, compared to 518 in 2009.
Mr. Tanner said that figure can be read two ways. Some people, he said, may be "going back to brands," feeling more comfortable with familiar company names. The slowdown in new product may also arise from the fact that many of the specialty products launched in recent years have been so successful that there is less room for new competitors.
Seventy-six percent of specialty food manufacturers reported better sales in 2010. Thirty-six percent of those manufacturers said their sales went up by more than 20 percent last year.