Libyan dictator Moammar Gadhafi's armed forces have shifted tactics to adapt to NATO'S limited airstrikes in support of poorly organized rebels who don't think the European allies are flying enough missions.
Col. Gadhafi's forces have abandoned tanks — a ripe target for strike jets — in favor of pickup trucks, said a defense source who is monitoring the operation.
"There are no more tank columns," the source said.
John Pike, who runs GlobalSecurity.org, a private security firm, said Col. Gadhafi's commanders learned quickly.
"I think that they have learned that sitting in a tank is a very dangerous place to be," Mr. Pike said. "I think that they have learned what works and what doesn't by process of elimination.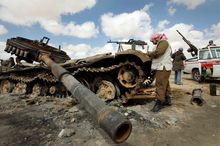 "Armor does not work because it's a good way to get yourself killed. Technicals [trucks with welded-on weapons] work because you have a hard time identifying the political affiliation of a technical from 20,000 feet."
Pro-Gadhafi forces also are hunkering down in populated areas where they know NATO will not bomb to avoid civilian casualties. When government troops do move, they do so in smaller units so as not to present a big target.
The defense source said the Libyans also may be firing mobile-rocket systems, then quickly moving to avoid detection.
"It's very Darwinian," the source said. "The dumb ones get killed early, and the smart ones adapt to the environment."
The Libyan government's change in tactics has been made easier by the fact that President Obama turned over the mission to NATO last month and, with it, withdrew many of the strike aircraft that had been hitting Libyan targets and cheering the rebels.
"When air power is misused, and its objectives are convoluted, it is difficult to be effective and easily countered," retired Air Force Lt. Gen. Thomas McInerney said. "This is especially true when we do not know the ideology of the rebels whom we are supporting in a civil war."
NATO has been scrambling to get more European countries to contribute warplanes, but Italy said Sunday that it would not send aircraft.
NATO issued a statement Sunday saying the war command, based in Naples, Italy, had executed 2,771 sorties since March 31, when it took over from the United States. It said it flew 60 missions Sunday, hitting ammo depots, two hangars, air defense radars and missile launchers.
The New York Times on Monday quoted rebels in Benghazi as saying they saw little NATO air activity over the weekend.
Mr. Obama has said he wants Col. Gadhafi out of office. But the United Nations' March 18 resolution backing a no-fly zone is being interpreted as so limited that NATO cannot launch the kind of strategic air war that has led to the removal of despots in the past.