American workers are getting squeezed, not able to get ahead because anemic growth in their wages is not keeping up with the fast rise in prices for food, fuel and other necessities.
Surveys show meager growth in average wages of 1.7 percent in the past year, while surged in gasoline and food prices have pushed the inflation rate to more than 2 percent. Growth in other sources of income such as rents, interest and Social Security also has been weak or nonexistent.
The result: Typical workers are no longer able to keep up with the rising cost of living — something they managed to do even during the recession. Retirees with fixed income are in worse shape because they did not receive even a cost-of-living adjustment in their Social Security benefits last year.
Robert Robinson, a Texas retiree, is distressed that even Wal-Mart — the discount retailer known for undercutting other stores on prices — has been raising prices willy-nilly in recent months.
"Wal-Mart raised the price of canned soup by 25 cents from $1 across the board, and raised the price of yogurt by 8 cents. Milk at Wal-Mart is nearing $5 a gallon, and the cheapest loaf of bread is more than $2," he said.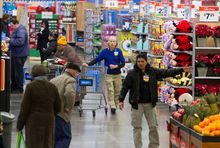 Mr. Robinson blames the Federal Reserve, whose mission is to keep inflation at bay. He noted that Fed officials typically exclude volatile food and energy costs when they calculate what they consider the core rate of inflation, which is leading them to maintain that inflation is under control.
"The Fed is apparently not concerned about whether or not mainstream America can afford to pay for food, housing, electricity, water, medical care, insurance premiums, among other costs" that keep rising, said Mr. Robinson.
While everyone is set back by rising prices, it is particularly painful for the poor and low-income consumers, as they spend a greater share of their income on food and gas, said Harm Bandholz, an economist at Unicredit Markets.
"Rising food prices affect above all those that can afford it the least," he said. "In the U.S., households with the lowest incomes spend roughly twice as much on food in relative terms as households with the highest income."
Mr. Bandholz noted that the 80 percent surge in global food prices recorded in the last six months of 2010 — which has continued this year with commodity prices reaching record highs — helped provoke the unrest in North African and Middle Eastern countries, where households typically spend 40 percent of their income on food.
The unrest in that critical and oil-rich part of the world in turn fed the surge in energy prices, which has sent average gas prices to more than $3.60 a gallon in the U.S.
The combination has left the average workers pay lagging behind the cost of living and has eaten deeply into consumer purchasing power, Mr. Bandholz said.
The price increases have zapped $50 billion from U.S. consumer purchasing power, he estimates. If the pace continues, purchasing power will be slashed by $175 billion by the end of the year — essentially absorbing all of the $150 billion in net tax cuts that Congress has given this year, he said.
Since consumers are the biggest source of growth for the U.S. economy, the inflation surge also is posing a drag on economic growth. It has prompted many economists to downgrade their forecasts for U.S. growth this year.
The 50-cent-per-gallon rise in gas prices since the start of the year will subtract about $60 billion, or 0.4 of a percentage point, from the growth rate, according to Morgan Stanley, which is projecting a growth rate of 1.9 percent in the first quarter.