Virginia Gov. Robert F. McDonnell's office has confirmed that it is taking steps to block proposed rules that would compel private agencies to place foster children with unmarried couples, including gay couples.
"This was language proposed by the Kaine administration. We are working with the agency to remove the language," McDonnell spokeswoman Taylor Thornley said Wednesday.
Mr. McDonnell told reporters Tuesday he supported Virginia's current adoption policy, which welcomes single individuals and married couples as caregivers for children.
Private agencies, such as LDS Family Services, Bethany Christian Services and Catholic Charities, are also allowed to consider religion when they match parents and children.
These current regulations "seem to be working well," Mr. McDonnell said.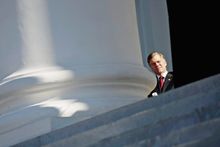 At issue is an overhaul of regulations for licensed private child-placing agencies, which started in November 2009 under the departing administration of Gov. Tim Kaine, a Democrat.
The new rules told these private agencies they must "prohibit acts of discrimination" based on race, color, gender, national origin, age, religion, political beliefs, sexual orientation, disability or family status when they are placing a child or accepting applications from adults.
When this measure was discovered last week by faith-based agencies, more than 1,000 people, including Virginia Delegate Robert G. Marshall, objected to it in the state's online comment area. Fewer than 30 people supported the changes, according to a Washington Times review of the 1,074 comments.
This month the Virginia Department of Social Services will send a final package of changes to the State Board of Social Services, said a DSS spokeswoman.
The state board will vote on the package, and then send it back to state officials, including Mr. McDonnell, for final approval.
"We have had private assurances" that the adoption changes "will not stand," Victoria Cobb, president of the Family Foundation of Virginia, said Wednesday. "We feel very comfortable about this."
"In our view, this is an issue of religious freedom and freedom of conscience," said Jeff Caruso, executive director of Virginia Catholic Conference. "Our understanding is that the governor is going to preserve the status quo, and we are very appreciative of that, of course."
Jennifer Chrisler, executive director of the Family Equality Council, urged Mr. McDonnell to keep the changes, so that prospective couples, regardless of sexual orientation or gender identity, can adopt children in Virginia.
"This proposal would create loving homes for many children who are in foster care or who are awaiting placement in foster homes," said Ms. Chrisler, whose organization is working with Rep. Pete Stark, California Democrat, to eliminate adoption policies that discriminate against gay couples across the country.
All states currently allow single individuals, including gays and lesbians, to foster or adopt. However, while 10 states and the District of Columbia allow gay couples to foster or adopt, many states are silent on the issue, or disallow it directly or indirectly, like Virginia.