Gene Byron is having the time of his life. It's Friday night, just after 8, and he's at the Stein Room, a bar where his friends come three or four nights a week, surrounded by women. As the music gets louder, one of them is threatening to dance on the table.
"You see Lucille there? You ought to see her when they play 'Tequila Makes Her Clothes Fall Off,'" Mr. Byron says.
He has a younger woman by his side. "They were all after him, and I was the winner," says Marcia Hahn, 69, who calls Mr. Byron "the love of my life."
He's got neighborhood pal Phil Katz there too. "We became friends right in the beginning — both our minds were in the gutter," Mr. Katz says.
For 80 years old, he's not doing too badly, but the odds are in his favor. The Stein Room is in Leisure World, a retirement community on Georgia Avenue north of Silver Spring, and two-thirds of the residents are women.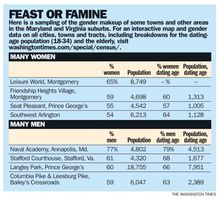 That figure makes it one of the most gender-skewed communities in the Washington area, according to a Washington Times analysis of newly released census data that found an eclectic bunch of locales that, for wildly different reasons, have either a glut of men or a disproportionate number of women. The differences represent a basic dynamic affecting every facet of life for those seeking to date, those raising families and those trying to live out their days in comfort.
"I'm loving it," Mr. Byron says.
"What's the new word for women who — the opposite of arm candy?" asks Janet Crumpt. "Cougars. There are a lot of them here."
'Here to work, not live'
Hours later and 10 miles south at Cuzco in Langley Park, there are just four people on the dance floor. Yet the loud, smoky club is packed: Four dozen men are sipping Coronas around pool tables as two women and two men gyrate to Latin music.
"Girls get bothered because everyone is asking them to dance. And then the guys are like, 'Why did you come to a club if you don't want to dance?'" says Teodoro Marino, a server at Samantha's Restaurant on University Boulevard.
To visit Langley Park, a town of recent Latin American immigrants where few speak English, is to be struck by what it lacks, an absence so dramatic that, statistics show, the only places in the region with more young men and fewer young women are the Jessup Correctional Institution and the U.S. Naval Academy:
Where are all the girls?
"In Colombia," answers Elmer Baudista as he folds shirts in a laundromat just past midnight. "When we come here, we just come here to work. Not for living here, just to make some money to send back and then leave. The man in Latin America is head of the family, so he will come here first. They will bring the family or send money."
The situation is so common, both in Langley Park and surrounding areas and in parts of Latin America, that "the guys in Colombia or Guatemala now, they will have two or three girls," he says.