Because of who he is and what he's overcome, whenever Chien-Ming Wang takes the mound, the game is about him.
It's about how often he throws his sinker, which was 54 times in 78 pitches Tuesday night in a 6-4 victory over the Cincinnati Reds. It's about how deep into a game he can go, how many ground-ball outs he can get, and most importantly, how his surgically repaired right shoulder feels when he's finished.
And while Tuesday's victory involved all of those things, it was also a night that Wang was neither dominant nor a doormat. Quite simply, Wang was just good enough to let his offense steal the show. In 6 1/3 innings, he gave up all four earned runs on seven hits and one walk.
Enter Michael Morse. With six weeks remaining in the 2011 season, he is on pace for one of the best offensive seasons for any National in the organization's history.
With his starting pitcher down 2-0 after the first inning, Morse delivered an RBI double to right field in his first at-bat and followed it up with a solo shot to the opposite field in his second. But he wasn't the only one providing all of the offense.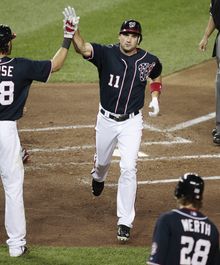 Ian Desmond had a two-run single in the first inning, while Ryan Zimmerman's called home run that nearly made the concourse in left field in the fifth inning staked Wang to a 6-2 lead.
But Morse, with his .323 batting average (third-best in the National League) and his .566 slugging percentage (courtesy of 21 homers and 29 doubles), was the game's star. With a .938 OPS (on-base plus slugging percentage), Morse currently owns the best mark by any player in the Nationals' seven-year history in Washington.
"Ever since I've been here, he hasn't had really a bad day," said Nationals manager Davey Johnson. "He missed one day [last week], came back and hit ropes the next day. I don't know where we'd be without him. He's been awfully good."
While he's been awfully good this season, he's been even more impressive since taking over at first base, when he's hit .344 with 26 doubles and 19 homers. Part of his success this year has been because he's worked to eliminate his weakness on pitches inside. Of his 21 home runs, at least 10 have been to the opposite field — a display of power that impresses even Morse's peers.
"It's really impressive," Zimmerman, himself a Silver Slugger award winner, said. "I think to be able to hit the ball that way in the big leagues, not too many people do it — and on the pitches that he does, I mean … just to be able to stay on the ball, trust your plan and put a swing on it is pretty impressive."
Impressive, like the two extra-base hits he had Tuesday night to the opposite field, his first cutting the Reds' lead in half and the second giving the Nationals a two-run cushion in the third.
But he wasn't the only impressive Nationals' hitter. Before Zimmerman crushed a ball down the left field line and into the final rows of the outfield seats, he told his teammates that he was going to take Reds starter Mike Leake deep.
"He just made it known to everybody on the bench: 'He's going to throw me a fastball in, and I'm going to hit it out of the ballpark, a bomb,'" Johnson said. "And then after he hit the bomb, when he was coming up the next time up, I said, 'Is that all there was?' He said, 'No, it actually stung a little bit. He jammed me.'"
Zimmerman blushed at the suggestion, but Morse had no problem owning up to the show of confidence for him, acting unsurprised about the feat.
"Yeah," Morse said when asked if Zimmerman called his shot. "He told me to get ready, he was going after it. That's Ryan Zimmerman, man. That's the S.S., the Silver Slugger."