Gunmen with explosives crossed into southern Israel from the Sinai Peninsula on Thursday and carried out an attack that left eight Israelis dead and prompted an airstrike on Gaza that Israel said killed six Palestinians linked to the attack.
The attack on the Israeli resort city of Eilat, the worst since 2008, is renewing a counterterrorism focus on the increasingly lawless Sinai Peninsula, where jihadists released from prison this year are suspected by U.S. and Israeli officials of setting up a base for al Qaeda.
Israel said the attack was the work of the Popular Resistance Committees in Gaza, a Palestinian group not linked to al Qaeda. Israeli jets launched an airstrike against its leadership Thursday night.
However, the Sinai region, which has been a relatively peaceful border for Israel since a 1979 deal returned the territory to Egypt, has emerged as a major counterterrorism worry in recent months.
Officials and news reports in the region said the attack was coordinated and began about noon local time. The gunmen first opened fire on a bus carrying civilians traveling north of Eilat.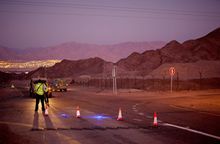 As members of the Israeli military responded to the first shooting attack, one of their vehicles was blown up by a roadside bomb. Several soldiers were injured during the rescue mission.
Israeli military sources told reporters Thursday that the commandos were armed with automatic weapons, grenades and suicide bomb belts. In the firefight, Israeli soldiers killed five of the gunmen. None was able to detonate any of the explosive belts.
On Friday, more explosions were reported in the Gaza Strip, though the Israeli military did not immediately confirm Palestinian claims they were the result of airstrikes. According to reporters in the Strip, hospital officials there said a 13-year-old boy was killed and 10 people wounded in two blasts in Gaza City. A third blast occurred in an area near the Gaza-Egypt border, which is laced with smuggling tunnels.
Bruce Riedel, a Brookings Institution senior fellow and former CIA officer, said he thinks circumstantial evidence indicates that al Qaeda has established an affiliate in the Sinai.
"There is definitely something bad happening in the Sinai," he said in an interview. "We've had a series of attacks on police posts. We have had a series of attacks on the Egypt-Israel-Jordan gas pipeline, effectively putting it out of commission. Who these people are, it is not clear."
But Mr. Riedel added that al Qaeda's new leader, Ayman al-Zawahri, in a recent message to followers "specifically praised the attacks on the pipeline and urged jihadists in the Sinai to go after Israeli targets. He highlighted this."
"Does this prove a link between al Qaeda and what is going on in the Sinai?" Mr. Riedel asked. "I don't think it proves it, but it is strong circumstantial evidence."
A U.S. intelligence official said that dozens of jihadists who had escaped or were released from Egyptian prisons had made their way to Sinai in the past four months. "This has been something we have been talking to the Egyptians about since February," this official said.
In Jerusalem, Israeli Prime Minister Benjamin Netanyahu said in remarks late Thursday that "today, we all witnessed an attempt to step up terror by attacking from Sinai. If anyone thinks Israel will live with that, he is mistaken."
Secretary of State Hillary Rodham Clinton said in a statement that "this violence only underscores our strong concerns about the security situation in the Sinai Peninsula. Recent commitments by the Egyptian government to address the security situation in the Sinai are important, and we urge the Egyptian government to find a lasting resolution."