He boasted a record and a resume as impressive as anyone who ever played the game, but it always seemed that three-time world champion Mikhail Botvinnik was more admired than loved by chess players around the world.
Botvinnik, born 100 years ago on Aug. 17, 1911, brought an unprecedented level of precision, drive and technical sophistication to the game, helping to formulate and then mastering the insights of the great Soviet school of chess and ranking among the very best players in the world from the mid-1930s into the 1960s.
But his powerful, logical style generated relatively few brilliancies over his lengthy career, and many of the players he held off as world champion, including such greats as Paul Keres, David Bronstein and Mikhail Tal, today claim far more fervent fans than the cool, cerebral Botvinnik. Still, his was a style that generated impressive results, including 15 years as world champ, six Soviet national titles (a record he shares with Tal) and a string of victories in legendary tournaments.
He influenced a new generation of Soviet greats, including junior stars (and future champs) Anatoly Karpov and Garry Kasparov, and top players to this day routinely cite Botvinnik's "One Hundred Selected Games" collection as a seminal influence on their own early development.
We honor Botvinnik, who died in 1995, with a game taken from the twilight of his career in 1968, two years before he essentially gave up competitive play at age 59. The buttoned-up ex-champion lets loose for once, with a wonderful sacrificial attack against strong Hungarian GM Lajos Portisch.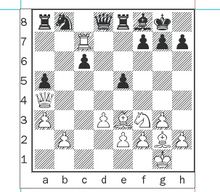 After some quiet opening moves in this English, Black thinks he sees a way to deflect White's c-file pressure while preparing …c6, but Botvinnik alertly spots the none-too-obvious flaw in his opponent's calculations.
Thus: 14. Rc2 Bf8 15. Rac1 Nb8?! (a little too cute; Black clears the way for the pawn to advance in the mistaken belief that White's next move is a blunder) 16. Rxc7! Bc6 16. R1xc6! bxc6 (see diagram; 17…Nxc6 18. Rxb7 Qd6 19. Rb6 Rac8 20. Ng5 is winning for White, but Portisch may have banked on 18. Rb7 Qc8 19. Rb3 f6, with a very playable game) 18. Rxf7!!.
Only now does Black see that 18…Kxf7? loses to 19. Qc4+ Kg6 (Ke7 20. Bg5+; 19…Qd5 20. Ng5+) 20. Qg4+ Kf7 21. Ng5+ Kg8 (Kf6 22. Qf3+ Kg6 23. Qf7+ Kh6 24. Bf3 Qxg5 25. Qh5 mate) 22. Qc4+ Kh8 23. Nf7+ Kg8 24. Nh6+ Kh8 25. Qg8 mate. He tries to cover up with 18…h6 19. Rb7 Qc8 20. Qc4+ Kh8, but Botvinnik is just getting warmed up.
The rambunctious rook is offered up a second time on 21. Nh4! Qxb7 (declining the offer with 21…Qe6 22. Qe4 a4 23. Ng6+ Kg8 24. Bxh6! gxh6 25. Nf4 Qe7 26. Qg6+ Bg7 27. Nd5! cxd5 [Qxb7 28. Nf6+ Kf8 29. Qxe8 mate] 28. Bxd5+ Kh8 29. Rxe7 Rxe7 30. Bxa8 only underscores Black's dreary defensive prospects) 22. Ng6+ Kh7 23. Be4. Black's king is in a bind, with all of White's remaining pieces targeting the king-side.
Botvinnik finishes with a flourish 24. Nxe5+ g6 (Kh8 25. Nf7+ Kg8 26. Nxd6+ is crushing) 25. Bxg6+ Kg7 26. Bxh6+!, and the last sacrifice proves too much for the Hungarian. Portisch resigned facing lines such as 26…Kxh6 (Kf6 27. Qf4+ Ke6 28. Bf7+ Qxf7 [Ke7 29. Qg5 mate] 29. Qxf7+ Kxe5 30. Bg7 mate) 27. Qh4+ Kg7 28. Qh7+ Kf8 29. Qxb7 Bxe5 30. Qf7 mate.
–
Portisch, still competing at 74, was invited to take part in a rapid tournament of senior stars in Russia this month organized to mark Botvinnik's centenary. He finished third in the 10-player event. The winner, not unexpectedly, was 80-year-old Russian-born Swiss GM Viktor Korchnoi, who long ago retired the title as the strongest senior player in history. Korchnoi, who was 1-1-2 in his personal encounters with Botvinnik as a younger man, went an undefeated 7-2 in the veterans event, including a nice attacking win over Russian GM Oleg Chernikov.
Here again, White seizes a positional advantage with an early tactical shot: 12. Be3 Bc5?! (Black understandably wants to boost his lagging development) 13. Rxc5! Nxc5 14. b4, and the pin nets two minor pieces for the rook. Chernikov tries to generate counterplay on the open central files, but he leaves his king-side badly underdefended.
Korchnoi pounces after 23. h3 Rd7? (Bxe4 24. Nxe4 f5 25. Nc3 e5 at least keeps Black in the game) 24. Bd4! (now there's no good way to defend the long diagonal) f6 25. Bxf6! even at rapid time controls, this probably wasn't a tough one for White to work out; the Black king-side is shredded.
The finale: 25…gxf6 26. Qxf6+ Rg7 (Kg8 27. Bxd5 exd5 28. Qg6+ Rg7 29. Qe6+ Kh7 30. Nd4 Nxd4 31. Rxc7 Nxe6 32. Rxc8 is an easy endgame win) 27. Qxh6+ Kg8 28. Bxd5 exd5 29. Nd4, and Black has seen enough, as even 29…Qb7 30. Nxc6 Rgc7 31. Qe6+ Kh8 32. Qf6+ Kh7 33. Ne7! Rxc1+ 34. Nf1 R1c6 35. Qf7+ Kh8 (Kh6 36. Nf5+ Kg5 37. f4 mate) 36. Ng6+ Rxg6 37. Qxb7 can't prevent a huge material loss. Chernikov resigned.