The 2012 congressional elections are more than 10 months away, but some key votes already have been cast — and not by the electorate.
Judges, rather, are playing major roles in reshaping the House landscape this election cycle, as the courts in many states have ruled — or soon will — on disputed redistricting maps in several battleground states.
Democrats have won early-round court battles in Texas and California regarding congressional redistricting — a process conducted every 10 years based on census data that reflect changes in population. With more cases pending or expected in those and other key states such as Florida and New York, the party is in a good position to chip away at the Republicans' 50-seat advantage in the House.
Political analysts say Republicans still aren't in danger of losing control of the House, which they wrested from Democrats with the 2010 elections.
"Even though we're still in the redistricting process, it looks like Democrats will gain House seats — just not the 25 they need in order to win the majority," said Nathan L. Gonzales, deputy editor of the Rothenberg Political Report.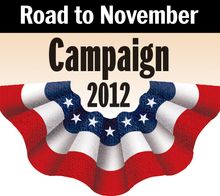 Polling in recent weeks has varied, predicating just how difficult it is for pollsters to gauge the 2012 House elections amid the redistricting debates. A Rasmussen Reports survey released Dec. 12 shows Republicans with a 3-percentage-point advantage over Democrats on a generic congressional ballot, but an Ipsos Poll conducted for Reuters news agency at almost the same time shows Democrats with a 6-point lead.
"It's too early [to accurately predict], particularly with Florida still outstanding," Mr. Gonzales said. "We like to know who is running and where they are running, and right now in 16 states we still aren't really sure what those factors are."
Majority-minority issues
One of the biggest enigmas is Florida, where a new voter-approved "fair districts" amendment to the state constitution is being used to redraw congressional boundaries. The anti-gerrymandering measure bars lawmakers from drawing districts to favor incumbents or a political party.
The Florida Senate, after months of hearings statewide, last month released a proposed congressional map, which fair districts proponents said didn't go far enough to eradicate irregularly shaped districts. The final map — which is almost certain to generate legal challenges — is expected early next year.
The Florida House and two members of Congress — Reps. Mario Diaz-Balart, a Republican, and Corrine Brown, a Democrat — have sued to overturn the measure, saying it violates the U.S. Constitution's provision that state legislatures — not voters through a referendum — have control over redistricting.
A federal judge in Miami upheld the amendment in September, but an appeal is pending.
"Adhering to all of the elements of the fair districts maps simultaneously and equally is not possible, because obviously the federal Voting Rights Act trumps the state law," said Susan MacManus, a political science professor at the University of South Florida. "That said, it does look like at least there's been some movement toward the ideals of the fair districting components, specifically [toward] more competitive districts."
In Texas, the March primary likely will be delayed because the Supreme Court this month blocked the use of congressional district maps drawn by federal judges. The maps would have favored Democrats by ensuring that minorities made up the majority in three new districts.
The judges issued the maps after a lawsuit was filed over a redistricting plan drawn by the GOP-led Legislature. Minority groups sued, claiming the maps didn't reflect the growth in the state's Hispanic and black populations.