Virginia will again play a big role in presidential-year elections that in 2012 include perhaps the country's marquee Senate race, while Maryland Democrats face a potentially bruising primary before trying to increase their ranks in Congress.
Maryland remains a solidly blue state, but the effects of redistricting could help Democrats take yet another House seat. Virginia has emerged as a swing state in recent elections, but it remains to be seen whether Republican successes in a historic sweep of statewide offices and the General Assembly will translate to victory for a GOP presidential nominee and help the party secure a U.S. Senate seat.
Nearly every poll released since Sen. Jim Webb, Virginia Democrat, announced his retirement in February has Tim Kaine, a Democrat, and George Allen, a Republican, in a statistical dead heat. Other potential candidates routinely fail to crack double digits.
Both the front-runners, well-known former governors, appear well-funded for the long haul. A face-to-face debate early this month previewed both parties' strategies.
While Mr. Allen tried to connect Mr. Kaine to President Obama's failure to revive the economy, Mr. Kaine accused Mr. Allen of being a bully, a label that essentially cost Mr. Allen his 2006 re-election bid against Mr. Webb.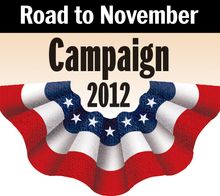 The most recent federal reports show each candidate has raised more than $3.5 million in contributions to a race that could end up costing as much as $25 million, said Stephen Farnsworth, a professor of communication at George Mason University.
"For Virginia, the amount of money that's going to be spent is going to dwarf any amount that's been spent before," he said. "Both of these candidates have won statewide, repeatedly. Both of them are experienced campaigners. Both of them are going to be able to tap a lot of party money."
The race is one of about a dozen that will determine control of the Senate, with Democrats more on the defensive than Republicans because of retirements and endangered incumbents. Republicans have 47 of the 100 seats and must pick up an additional four to get the majority.
Virginia is also in the national spotlight because its 13 Electoral College votes will play a key role in any path to victory for either Mr. Obama, who in 2008 became the first Democrat to carry the state in more than 40 years, or whoever emerges from the GOP primary field.
One big question is whether Virginians will turn out to vote in large numbers as they did in 2008, when 67.6 percent of those eligible went to the polls.
"What made the difference for Obama's victory in 2008 was this huge turnout from young people and African-Americans," Mr. Farnsworth said. "Will the electorate of 2012 look more like the electorate in 2008, or will it look more like 2010, where these voters to a greater extent stayed at home? That's why everybody will be spending a huge amount of money in Virginia. Because it's up for grabs."
In Maryland, Democrats have targeted Rep. Roscoe G. Bartlett, a 10-term Republican incumbent who they say has lost touch with voters in his Western Maryland district.
The race could be the state's most competitive, as Maryland lawmakers redrew his traditionally conservative 6th District this year to include more Democrats and the home of state Senate Majority Leader Robert J. Garagiola, a 39-year-old rising star in state politics.
Mr. Bartlett, 85, has insisted he will seek re-election, despite questions about his age and low fundraising totals. The congressman raised $74,000 as of Oct. 1, far less than the state's seven other congressional incumbents. Mr. Bartlett told the Frederick News-Post this week that he has ramped up his efforts and raised about $150,000 in recent weeks.
The race also has attracted a handful of solid, state-level primary challengers, including state Sen. David R. Brinkley and state GOP Chairman Alex X. Mooney. Mr. Garagiola appears to be the clear front-runner on the Democratic side, and the Cook Political Report has put the race in the "leaning Democrat" category.