D.C. Council members are to meet Monday behind closed doors to discuss the latest development in the federal investigation of colleague Harry Thomas Jr., whose house was raided Friday by federal agents.
The daylong raid by FBI and IRS agents on Mr. Thomas' Northeast Washington home is a significant development in a criminal investigation into whether the council member used public funds for personal gain.
D.C. Council member Mary M. Cheh, who already has called on Mr. Thomas, Ward 5 Democrat, to resign, said obtaining a search warrant does not require a high standard for the evidence. Nevertheless, she characterized the event as a "new and ominous phase" in the investigation.
"Obviously, all of us are very sad and disturbed by this turn of events," said Ms Cheh, Ward 3 Democrat.
About two dozen agents in FBI and Treasury Department jackets and vests entered and exited Mr. Thomas' house from 8 a.m. until after 5 p.m. Friday. Police cordoned off the U-shaped drive that runs in front of the two-story brick house and neighboring homes near the intersection of 17th Street and Montana Avenue Northeast.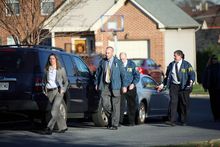 The most obvious things that were seized were a red motorcycle with yellow detailing and a Chevrolet Tahoe, which were loaded onto a tow truck from the driveway of the house.
Ted J. Williams, a D.C. criminal defense attorney, said the raid likely was conducted to gather evidence such as financial records and could signal that authorities' investigation into Mr. Thomas' activities is winding down.
"When the FBI conducts this type of raid, it's usually at the end of their investigation," he said. "All indication that I see is that council member Thomas will be indicted."
Bill Miller, a spokesman for the U.S. Attorney's Office in the District, declined to comment on the raid — not even to confirm that it was Mr. Thomas' house that was being raided.
"Today's law enforcement action is in conjunction with an ongoing investigation," he said. "Because the investigation is continuing, there will be no comment at this time."
FBI spokeswoman Jacqueline Maguire would only confirm that "law enforcement action was taken" Friday morning at Mr. Thomas' home.
Mr. Thomas' lawyer, Fred Cooke, was seen at the house throughout the day. He emerged about 5 p.m. with another lawyer, who read a brief statement on Mr. Thomas' behalf.
"We certainly understand the interest of the public and respect that interest," lawyer Karl Racine said. "From day one, we've cooperated with the government's investigation of this matter, and we'll continue to do that. At the conclusion of the matter, we sincerely believe that there will be no finding of any criminal violation."
Mr. Thomas agreed to repay $300,000 to the District after the city's attorney general filed a $1 million lawsuit against him earlier this year for funding lavish trips and a luxury vehicle with public funds earmarked for youth baseball.
Mr. Thomas said after the settlement was announced that he had entered into it in the "best interest of the city" and denied "purposeful misuse" of public funds.