Former Prince George's County Executive Jack B. Johnson, the face of a wide-ranging federal corruption probe that has netted business owners, developers and government employees, was sentenced Tuesday to more than seven years in prison for accepting up to $1 million in bribes while in office.
In a packed courtroom in the U.S. District Court in Greenbelt, Judge Peter J. Messitte handed down a sentence mostly in line with prosecutors' recommendations — 87 months in prison, three years of supervised release and a $100,000 fine — and rejected defense arguments for leniency based on a jarring disclosure that Johnson has been diagnosed with Parkinson's disease.
"This was not a single act of bribery," Judge Messitte said. "This was not a simple wrong turn. This was a deliberate march down a long path of kleptocracy."
Johnson, 62, faced up to 14 years in prison under federal sentencing guidelines, time the judge reduced during the more than two-hour hearing because of Johnson's cooperation with investigators.
But Johnson's attorneys said even a much lesser sentence would be too difficult on their client, considering his age and his deteriorating health.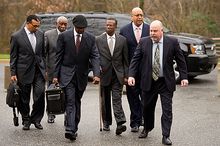 "He appears to be going downhill relatively quickly," defense attorney Jeffrey Harding said. "To sentence Mr. Johnson to a long period of incarceration is a death sentence for him."
Mr. Harding said Johnson, who entered the courtroom with a cane, was diagnosed with Parkinson's in April but has showed symptoms such as tremors since last year.
Prosecutors were skeptical of the claim, arguing that Johnson may have simply exhibited Parkinson's-like symptoms. Seven days after the date his attorneys said he was diagnosed, a surveillance team photographed Johnson playing a full round of golf and carrying a heavy bag, Assistant U.S. Attorney James A. Crowell IV said.
Defense attorneys said the activity was recommended by doctors to help Johnson with his illness.
Johnson, who led Prince George's from 2002 to December 2010 and was the county's top prosecutor for eight years before that, pleaded guilty in May to charges of extortion and witness and evidence tampering.
Prosecutors said he and other co-conspirators extorted more than $1.6 million in bribes in exchange for favors that totaled more than $10 million in value, including the procurement of federal housing grants for developers and help obtaining surplus property from the county.
"This case doesn't end our efforts," Rod J. Rosenstein, U.S. Attorney for the District of Maryland said Tuesday, adding he could not disclose the nature of Johnson's cooperation agreement.
Despite his guilty plea, Johnson will continue to collect a nearly $50,000 annual pension because he was not found guilty of the crimes while in office.
Other co-conspirators who have also pleaded guilty to related charges include doctor and developer Mirza Baig, former Prince George's County Director of Housing and Urban Development James Johnson (no relation to Jack Johnson), and developer Patrick Ricker. All three men are scheduled to be sentenced in March.
The story of Johnson's rise from poor and rural Johns Island in South Carolina to leader of the affluent majority-black county seemed to resonate with voters.