Facing criticism that his just-released budget failed to provide a path to solving the nation's fiscal problems, President Obama said Tuesday he had taken a first step, but would need help from congressional Republicans to craft a viable long-term solution.
Mr. Obama, holding his first news conference of the year, defended the $3.7 trillion 2012 budget proposal that deficit hawks have panned as too tepid in the face of a staggering deficit that is expected to reach more than $1.6 trillion this year.
"If you look at the history of how these deals get done, typically, it's not because there is an Obama plan out there. It's because Democrats and Republicans are both committed to tackling this issue in a serious way," Mr. Obama said in response to a question about his budget's failure to address the long-term costs of entitlements.
The president said his budget paves the way for bipartisan collaboration by stabilizing the nation's discretionary spending so that both parties can come together and solve the nation's long-term fiscal challenges. He cited the December compromise on tax cuts and a bipartisan effort to shore up Social Security in the 1980s as precedents for such an undertaking.
Some critics have accused Mr. Obama of failing to live up to his own rhetoric by not incorporating many of the recommendations from his own bipartisan fiscal commission into his own budget. While the panel's ideas for shaving $4 trillion off the deficit in the next decade failed to garner enough votes to be sent to Congress, 11 of 18 members voted in support of its plan, a mixture of spending cuts and tax increases.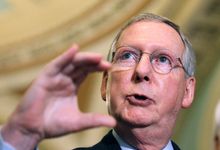 Even as he ignored many of the recommendations, Mr. Obama hit back against suggestions that the commission's work has been "shelved," crediting the panel with providing "a framework for a conversation" and accusing the media of being impatient.
"Let's face it, you guys are pretty impatient. If something doesn't happen today, then the assumption is it's just not going to happen," Mr. Obama said, pointing out that several Republicans joined Democrats in voting against the commission's recommendations. "This is going to be a process in which each side, in both chambers of Congress, go back and forth and start trying to whittle their differences down, until we arrive at something that has an actual chance of passage. And that's my goal. I mean, my goal here is to actually solve the problem."
It's not clear, though, which side will go first. As Mr. Obama says he's waiting for both parties to come to the table to move forward, Republicans say they're waiting on him.
"We're waiting for presidential leadership," Senate Minority Leader Mitch McConnell, Kentucky Republican, told reporters Tuesday. "Entitlement reform will not be done except on a bipartisan basis with presidential leadership."
In a joint statement, House Republican leaders promised a 2012 budget that doesn't "punt" on entitlement reform.
"Our budget will lead where the president has failed, and it will include real entitlement reforms, so that we can have a conversation with the American people about the challenges we face and the need to chart a new path to prosperity," the leaders said. "Our reforms will focus both on saving these programs for current and future generations of Americans and on getting our debt under control and our economy growing."
Even before they get to the 2012 budget, Congress is rushing to act on the overdue 2011 spending bills.
The House this week will vote on Republicans' proposal to cut about $60 billion from 2010 spending, which includes deep reductions to some of Mr. Obama's priorities, such as high-speed rail, and zeroes out dozens of federal programs entirely.
The government is currently operating on a stopgap spending measure that runs through March 4.
If lawmakers fail to pass a new spending bill by then, the federal government could shut down — something Mr. Obama said would have an "adverse effect" on the economic recovery.