The Obama administration is stepping up its criticism of the Bahraini government, as anti-regime protests in the U.S.-allied Persian Gulf nation entered their third day on Wednesday.
"What the president believes … is that Bahrain, like all the countries in the region, needs to respect the universal rights of its citizens, their right to protest, their right to have their grievances heard," White House press secretary Jay Carney said Wednesday.
"They should refrain from violence on both sides," he said. "We are obviously watching events from Bahrain and around the region very closely."
Protests in Bahrain, which hosts the U.S. Navy's 5th fleet, began Monday, and two protesters have since been killed by security forces.
Opposition figures previously had been critical of the Obama administration's failure to speak more forcefully about abuses by Bahrain's regime.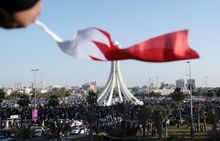 "They talk about Iran and about Egypt, but I don't know whether the Obama administration recognizes a country called Bahrain and that the people there are human beings who shouldn't be shot like animals," said Khalil Al-Marzooq, a leading figure in the opposite Wefaq bloc, in an interview Tuesday.
Wefaq, which holds 18 out of 40 seats in Bahrain's Council of Representatives, suspended its participation in the body Tuesday in solidarity with the protesters.
Mr. Al-Marzooq and other Wefaq leaders told The Washington Times that they would not end their boycott until the king indicated a seriousness about meeting protesters' demands for greater democratic reforms and more freedoms.