Congress is nearing passage of a short-term spending bill to keep the government from shutting down at the end of this week, but the deal does little to resolve the long-term fight over spending for the rest of 2011 and beyond.
The House is slated to vote Tuesday on a bill to push until March 18 the shutdown deadline while cutting $4 billion from 2010 spending levels. The Senate will then take up the bill, and Congress must finalize a version before midnight Friday.
At stake is the first major set of Republican cuts after November's elections, which the GOP says handed it a mandate, along with control of the House and higher numbers in the Senate.
"Democrat leaders in Congress resisted even this up until a few days ago. Now, they have started to suggest they might be willing to agree to it. This is progress," said Senate Minority Leader Mitch McConnell, Kentucky Republican. "This week, Democrats will have an opportunity to show that they've gotten the message."
The short-term approach seemed to win the White House's approval Monday, with press secretary Jay Carney saying it is "moving in the right direction."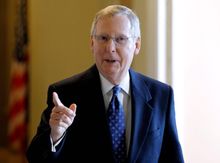 Congressional Democrats have been divided, however, with some saying they can accept the short-term bill's cuts while others seemed to rule out any cuts right now.
Still to be seen is whether the short-term "continuing resolution" can blossom into a full bill to fund the government through Sept. 30 — the end of fiscal year 2011.
The House approved a spending bill at $61 billion below 2010 levels, but President Obama and Senate Democratic leaders said the measure is unacceptable. They have not countered with cuts of their own, but if the two sides can't reach agreement, House Republicans raised the possibility of cutting week by week.
"If we keep cutting $4 billion every two weeks until the end of the fiscal year, Sept. 30, that'll equal $60 billion in cuts that we've asked for in the House and I think that's a good deal," Rep. Patrick McHenry, North Carolina Republican, told "America's Morning News" radio program on Monday.
Democrats, though, say that's not the way to budget.
"Honestly, I think this two-week business is not the way to go. I think there should be a longer-term agreement, hopefully through the end of the year," Sen. Kent Conrad, North Dakota Democrat, told CNN's "State of the Union" program Sunday.
By historic standards, the number of interim resolutions for this fiscal year — this week's would be the fifth extension — is actually pretty low. In 2000, Congress passed 21 interim extensions, including 10 in one 10-day period near that year's presidential election.
Meanwhile, both sides sparred over the effects Republicans' broad spending cuts would have on the economy.
On Monday, Mark Zandi, chief economist at Moody's Analytics, wrote a memo arguing that cutting spending at the levels Republicans have proposed could cost 700,000 jobs by the end of 2012.
"While cuts and tax increases are necessary to address the nation's long-term fiscal problems, cutting too deeply before the economy is in full expansion would add unnecessary risk," Mr. Zandi wrote, echoing a memo last week from a Goldman Sachs analyst who said cuts could cost 800,000 jobs.