It could cost a good deal more to be bad this year.
Cash-strapped state lawmakers across the country are looking at raising "sin" taxes on everything from traditional vices, like smoking cigarettes and imbibing alcohol, to more recently vilified habits like drinking sugary sodas and hitting the tanning salon.
• In Mississippi, state Rep. John Mayo, citing the state's place at the top of national obesity ratings, is sponsoring a bill that would add about 25 cents in new taxes to a can of soda.
• In New York, state Assemblyman Felix Ortiz, Brooklyn Democrat, wants a new "fat tax," a surcharge on the purchase of sweets and snacks.
• In Maryland, dozens of state lawmakers are getting behind a plan to raise $200 million in revenue with new taxes on beer and wine, but in the face of strong opposition from the state's business community.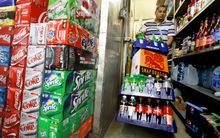 Other states and jurisdictions are looking at taxing the use of plastic shopping bags, raising fees for casinos — even in gambling meccas such as Nevada — and taxing tanning salons. In California, proponents of easing restrictions on marijuana cited the tax revenue legal pot could bring in. Some states have even considered new taxes on buyers of pornography and patrons of strip clubs.
Analysts say lawmakers are motivated far less by a desire to reduce sinning than by a need to increase revenue.
It's all driven by the massive budget shortfalls facing state and local lawmakers, said Justin Wilson, senior research analyst at the Center for Consumer Freedom, a Washington-based nonprofit that has lobbied against what economists call "Pigouvian taxes" — levies designed to change behavior for the betterment of society. (The name honors 19th-century English economist Arthur Pigou, one of the first to analyze the idea of economic "externalities.")
"People shouldn't be fooled into thinking these are about anything except raising money. This is a result of the combination of revenue-hungry legislators and regulation-hungry public health advocates," Mr. Wilson said.
Politicians say it's not that simple.
In Idaho, the Republican chairman of the legislative committee that will consider a cigarette-tax increase this year told IdahoReporter.com recently that his primary concern was the health of state residents.
But Rep. Dennis Lake also conceded that fellow Idaho lawmakers — desperate to avoid cuts to pet programs or agencies — may be more inclined to back a cigarette-tax increase this year than in years past.
In 2009, President Obama floated the idea of increasing federal taxes on soft drinks to help pay for his health care overhaul plan.
"It's an idea that we should be exploring," the president told Men's Health magazine at the time. "There's no doubt that our kids drink way too much. … And every study that's been done about obesity shows that there is as high a correlation between increased soda consumption and obesity as just about anything else."
The proposal never got anywhere on Capitol Hill, but Mr. Obama's health law approved last year does include new taxes for tanning salons and their patrons.