A strip club that a community group says was illegally relocated and is creating an appetite for prostitution in Northeast Washington is co-owned by a major Democratic Party donor and local developer who contributed to a controversial charity run by D.C. Council member Harry Thomas Jr., who represents the area.
Mr. Thomas said last week that Keith Forney of Forney Enterprises Inc. — a company that has received more than $90 million in D.C. construction funds since 2000 — is a donor to Team Thomas, the nonprofit organization Mr. Thomas founded in 2000 for "social change, citizen empowerment, community development and youth and senior program development."
The D.C. Office of the Attorney General (OAG) is investigating whether Mr. Thomas unlawfully solicited charitable donations to the group, and a D.C. judge had ordered him to disclose financial records to the attorney general by Jan. 10.
Mr. Thomas' attorney, Frederick D. Cooke Jr., said he is complying with the order, but Team Thomas does not have records of donors who contributed less than $1,000. The OAG has requested disclosure of all contributions greater than $250.
The Ward 5 Democrat declined to disclose the amount of Mr. Forney's donation, insisting "it was minimal, at best," while Mr. Cooke estimated that the contribution was less than $250. But neither Mr. Thomas, who recently was named to head the Council's Committee on Economic Development, nor his attorney say they currently have plans to publicly disclose the Team Thomas information.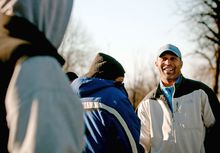 Former Attorney General Peter J. Nickles, who initiated the probe, has since resigned. Acting Attorney General Irvin B. Nathan declined to comment on the investigation.
News of the donation comes as a neighborhood group is protesting the relocation of Mr. Forney's strip club, the Stadium Club, to a renovated warehouse in a Ward 5 commercial manufacturing zone near New York Avenue and Bladensburg Road in Northeast Washington. The neighborhood group is criticizing Mr. Thomas for what it sees as his tacit approval of the club's illegal relocation.
"He is out of step with his constituents," said Don Padou, president of the Ward 5 Improvement Association.
The unspecified Team Thomas donation is not the only aspect of Mr. Forney's support for Mr. Thomas. Public records show that since 2008, Mr. Forney also has contributed $2,700 to Mr. Thomas' Ward 5 constituent-services fund.
Mr. Forney headquarters his construction and development companies in four separate office suites in a Northeast business plaza in Ward 5. D.C. records show that Team Thomas lists the same building as the nonprofit organization's corporate address, although it does not specify a suite number. Mr. Cooke said Tuesday that Team Thomas relocated from that office years ago and could not say what suite it had occupied at the time.
Mr. Forney's companies have worked on or completed construction and renovation projects across the city, including Eastern Market on Capitol Hill, Trinidad Recreation Center in Ward 5, the Ward 4 Senior Wellness Center, the University of the District of Columbia Van Ness Campus in Ward 3 and St. Elizabeths Hospital in Ward 8.
Forney Enterprises also was general contractor in the Deanwood Recreation Center and Library, the Kenilworth Recreation Center and Parkview Ballfield. Those projects, totaling more than $40 million, were investigated by Mr. Thomas after it was learned that the administration of former Mayor Adrian M. Fenty funneled the projects' funding through the city's housing authority, bypassing the council. The focus of Mr. Thomas' hearings was Banneker Ventures, a firm controlled by a fraternity brother of Mr. Fenty that acted as contract manager for the projects.
Mr. Forney also has received millions in federal defense contracts.
Yet it is his role as a roughly 50 percent owner of the Stadium Club and his contributions to Team Thomas that call into question the council member's receptiveness to constituent concerns.