TRIPOLI, Lebanon | Sunni Muslims staged violent demonstrations Tuesday after Lebanese lawmakers announced that the candidate Hezbollah supported for prime minister — telecommunications mogul Najib Mikati — had won the post.
In the northern city of Tripoli, Mr. Mikati's hometown and an epicenter of Sunni belief, thousands of protesters took to the streets after their leaders called for "a day of rage," accusing the Shiite group Hezbollah of attempting a coup d'etat.
The protest began peacefully but escalated into violence after a few hours. Gunfire rang out overhead as angry young men stormed buildings, burned flags, threw rocks and set fire to a van belonging to Al Jazeera news network, which they accused of supporting Hezbollah.
"We are so angry," said Mai Ali Osmen, an English teacher, as men set fire to the office of a Hezbollah-allied political party. "Everywhere in Lebanon, we refuse this decision."
"If [Hezbollah] continues the way it is now, a lot of other things will happen," businessman Nasser Harmouch said as he watched men burn furniture in the street.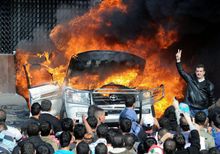 Meanwhile, the United States, which backed Lebanon's previous government, indicated that it would rethink its economic and military support for the nation if Hezbollah — a U.S.-designated terrorist group — takes control. Since 2006, the U.S. has supplied Lebanon with $720 million in military aid.
"A Hezbollah-controlled government would clearly have an impact on our bilateral relationship," said Secretary of State Hillary Rodham Clinton, according to Reuters news agency.
Hezbollah's rise to power also raises concerns with Israel, which the Iranian- and Syrian-backed militant group is committed to eradicating. Hezbollah, which caused the collapse of the previous government this month when Hezbollah ministers resigned from the Cabinet of Prime Minister Saad Hariri, hosted Iranian President Mahmoud Ahmadinejad last fall at rallies that drew tens of thousands of fans in Lebanon.
Analysts said a government led by Hezbollah, which has Lebanon's strongest military, would dramatically change the dynamics of the region and isolate the country from its Western allies. They also expressed concern that the change could reignite the sectarian violence that ravaged the country years ago.
Nonetheless, Mr. Mikati, 55, called for a unity government, dismissing criticism that he is a Hezbollah candidate and that a new government would be controlled by Iran or Syria. He appeared in a TV interview late Tuesday.
"My hand is extended to all Lebanese, Muslims and Christians in order to build and not to destroy," said Mr. Mikati, whose moderate credentials and Harvard education make it difficult for opponents to cast him off as a pro-Hezbollah figure with a militant agenda, the Associated Press reported.
Protesters in Tripoli began the day in high spirits — dancing, waving flags and chanting, "Saad, Saad, Saad." Many said they still thought Mr. Hariri would take back his prime minister post.
Mr. Hariri was ousted about two weeks ago when 11 ministers resigned. Ten of the 11 were from Hezbollah, and they quit in protest of Lebanon's support for the international Special Tribunal for Lebanon.
The Western-backed tribunal is expected to name Hezbollah members in connection with the 2005 assassination of former Prime Minister Rafik Hariri, the father of Saad Hariri. The court last week handed up its first indictments, which are not expected to be made public for several weeks.
Hezbollah says the tribunal is an Israeli-American scheme designed to discredit the organization and has vowed to "cut the hand" of anyone who tries to arrest its members.