When Garrett Haar was 3 years old, his parents asked him which sport he'd like to play — football, lacrosse or hockey. He doesn't remember the conversation or agreeing to take the path that included a set of skates, but that's how his hockey career started.
It's probably not much different than many kids in the United States, but the Washington Capitals prospect isn't from a hockey hotbed such as Minnesota or Massachusetts. Haar is from Huntington Beach, Calif. The 17-year-old defenseman makes no apologies for being a Southern California boy who grew up playing roller hockey and didn't get on the ice until he was 11.
Now, he's hooked.
"I'm always outside in my backyard and because California isn't a big hockey place, me and my brother, whenever we're not at the ice rink, most of the time we're outside playing roller hockey," Haar said. "I guess that's a California thing. I'm always surrounding myself with hockey, there's never a break, and I have no problem with that."
Haar's not alone but rather on the edge of one of the biggest trends in American hockey, as Sun Belt states have started to get in on the act of producing top-level hockey players. It's not to the level of basketball, baseball or football, but states such as Florida, California and Texas are starting to churn out hockey players like never before.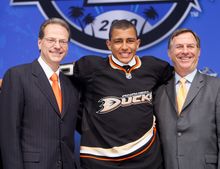 Caps general manager George McPhee and coach Bruce Boudreau have kids playing hockey and have seen the development firsthand.
"California is a hotbed of hockey now. Florida, I have a 13-year-old so the '98s, the Florida team is one of the best in the country," Boudreau said. "They draw from everywhere, so I think it's great to see and I hope it continues. It's a great trend, and when Americans start to get good at something they take over. So if I'm a Canadian, I'm watching out."
If the United States is starting to take over, it's still blossoming from traditional places such as Minnesota, according to USA Hockey executive director Dave Ogrean. But Sun Belt states are catching up, thanks in large part to the NHL's expansion in those areas.
In 1990-91, USA Hockey had 4,462 registered players in its Southeast District, which consists of Alabama, Arkansas, Florida, Georgia, Louisiana, Maryland, Mississippi, North Carolina, South Carolina, Tennessee, Virginia and the District. Last year, it had 11,571 in Florida alone. Texas beat that with 11,661, and California boasted 22,305 hockey players.
"Growing up, for me being in Minnesota you only play in Minnesota, really — except in the summer. And even then you don't travel," said Caps sixth-round pick Travis Boyd, a Hopkins, Minn., native. "When you start getting into the lower teens, you meet guys you play from Texas and you're like, 'I didn't even know they had hockey in Texas.' And they're all good players, too."
A spokesman for commissioner Gary Bettman shook off some of the credit for this, calling the league's Sun Belt expansion and increase in participation in those stats "symbiotic" — that interest in nontraditional markets prompted the need for more teams. But it's hardly a coincidence that adding teams in Anaheim, San Jose, South Florida and Tampa has led to such a boom in talent from those areas.
"I think the NHL was probably the biggest catalyst for this stuff," Ogrean said. "Gary Bettman over the years has taken some criticism for markets that are harder to nurture success with. But there is an absolute cause-and-effect relationship between that and the increase in participation in Sun Belt states. A lot of it starts with the visibility and the stage the NHL has."
At first, Haar — a big Ducks fan whose hatred of the Kings runs deep — didn't think the addition of the team to Anaheim made him play hockey. But after some thought he admitted maybe his parents wouldn't have even suggested hockey as an option if not for a nearby NHL team.
It's more accessible now; in Florida there were four sheets of ice statewide before NHL expansion and now there are 25. The Dallas Stars and San Jose Sharks took big strides growing hockey locally by partnering with their respective communities to build rinks.
"Unless you have a rink that's close - within probably 15 miles of where you live - it's difficult to participate in youth hockey," said Pat Kelleher, USA Hockey's assistant executive director for membership development.