Washington Capitals forward Brooks Laich can relax Friday and celebrate Canada Day while the rest of the NHL experiences the feeding frenzy that is the first day of free agency.
But this July 1 brings the weakest unrestricted free agent class in recent history, a result of a bevy of long contracts around the league.
"There has been a conscious effort by NHL teams to lock up their core players going back four to five years," one prominent agent said Thursday. "Every single year the trend has been a weaker and weaker UFA class with less depth to it because the better players in the league are all locked up to long term deals."
First there was goalie Rick DiPietro's 15-year deal with the New York Islanders. Last summer, the New Jersey Devils inked left wing Ilya Kovalchuk to the same number of years. In between, the Capitals gave left wing Alex Ovechkin 13 years and center Nicklas Backstrom 10. Instead of becoming unrestricted free agents, many players took the security of multiyear deals either with their current teams or new ones, creating a domino effect.
This weekend likey will bring more of those big deals. And while the agent said there always will be one or two big stars available — this year it's Dallas Stars center Brad Richards and Florida Panthers goalie Tomas Vokoun — the overall depth of talent available for the start of free agency has plummeted.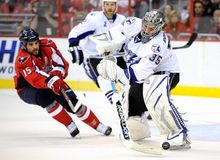 But the trend hits a crescendo Friday thanks to the big increase in the salary cap — from $59.4 million to $64.3 million. The salary floor also is going up, to $48.3 million. To put that in perspective, the salary cap for the 2005-06 season out of the lockout was set at $39 million.
Teams like the Panthers, Colorado Avalanche and Phoenix Coyotes enter free agency with around $15 million left beneath the floor.
"They're going to spend money. They're going to spend a lot of money," the agent said. "The teams will all compete for the top two or three guys and will give them monster offers, but the guys who are second-tier guys — third- and fourth-liners — are going to a get unprecedented amounts of money."
That could include players such as right wing Matt Bradley, who is not expected to be back in Washington.
Caps general manager George McPhee hasn't been very forthcoming about free agency but did call this group of free agents weak. With many teams able to throw money around, that could create a nice market for players.
"Somebody's going to spend too much money on free agents. I'm glad it's not going to be us, because we're in pretty good shape at this point," McPhee said Tuesday. "It's a difficult market to work in, and you worry about where it's going and you get competitive to beat out the other team and then you beat out the other team and you say, 'Why did we do that?' "
Assuming goaltender Braden Holtby and newly signed forward Mattias Sjogren are on the roster, the Caps have just more than $7.8 million in cap space. They freed some up Thursday by buying out defenseman Tyler Sloan, also opening up a roster spot.
That move could be a sign of things to come, as the Caps are considered a top candidate to make a significant trade. McPhee denied earlier in the week talking trade with anyone but did say at the draft that he expects discussions league-wide to pick up soon.
With owner Ted Leonsis writing on his blog to fans "don't be surprised if you see some trades," McPhee hinted this weak free agency class could make wheeling and dealing the better way to improve the Caps.
"I'd rather make trades and do that sort of thing than go too heavy in free agency," he said.