FUKUSHIMA, Japan — Emergency workers forced to retreat from a tsunami-stricken Japanese nuclear power plant when radiation levels soared prepared to return Wednesday night after emissions dropped to safer levels.
Tokyo Electric Power Co., the operator of the crippled plant, said it almost had completed a new power line that could restore electricity to the complex and solve the crisis that has threatened a meltdown. Officials plan to try the line "as soon as possible," company spokesman Naoki Tsunoda said, but he could not say when.
The new line would revive electric-powered pumps, allowing the company to maintain a steady water supply to troubled reactors and spent-fuel storage ponds, keeping them cool.
The earlier pullback cost precious time in the fight to prevent a nuclear meltdown, further escalating a crisis spawned by last week's devastating earthquake and tsunami that pulverized Japan's northeastern coast and likely killed more than 10,000 people.
It was unclear what happened in the Fukushima Dai-ichi nuclear plant's overheating reactors after late morning, when the workers stopped pumping in seawater trying to cool their fuel rods. Officials gave only sparse information about the reactors.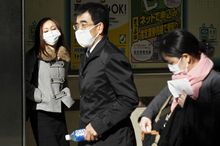 But conditions at the plant appeared to be worsening. White steam-like clouds drifted up from one reactor which, the government said, likely emitted the burst of radiation that led to the workers' withdrawal. The plant's operator reported a fire at another reactor for the second time in two days.
At one point, national broadcaster NHK showed military helicopters lifting off to survey radiation levels above the complex, preparing to dump water onto the most troubled reactors in a desperate effort to cool them down. The defense ministry said those flights were a drill. Later, it said it had decided against making an airborne drop because of the high radiation levels.
Officials are facing increasing criticism over poor communication and coordination.
"The anxiety and anger being felt by people in Fukushima have reached a boiling point," the governor of Fukushima prefecture, Yuhei Sato, fumed in an interview with NHK. He criticized preparations for an evacuation if conditions worsen and said centers already housing people moved from nearby the plant do not have enough hot meals and basic necessities.
The nuclear crisis has triggered international alarm and partly overshadowed the human tragedy caused by Friday's 9.0-magnitude earthquake and the subsequent tsunami, a blast of black seawater that pulverized Japan's northeastern coastline. The quake was one of the strongest recorded in history.
Millions of people struggled for a fifth day with little food, water or heat, and already chilly temperatures turned to snow in many areas. Police say more than 452,000 people are staying in temporary shelters, often sleeping on the floor in school gymnasiums.
Nearly 3,700 people are officially listed as dead, but officials believe the toll will climb over 10,000 since several thousand more are listed as missing.
In an extremely rare address to the nation, Emperor Akihito expressed condolences and urged Japan not to give up.
"It is important that each of us shares the difficult days that lie ahead," said Akihito, 77, a figure deeply respected across the country. "I pray that we will all take care of each other and overcome this tragedy."
He also expressed his worries over the nuclear crisis, saying: "With the help of those involved I hope things will not get worse."