Frank W. Buckles was buried Tuesday with the pomp and ceremony befitting the man who outlived 4.7 million other Americans who served in World War I.
His flag-draped casket was carried to his grave site at Arlington National Cemetery on a caisson led by seven horses. A seven-man firing party fired three rifle volleys and a bugler played taps as hundreds of onlookers saluted or held their hands to their hearts.
At the end of the graveside service, soldiers from the Army's vaunted "Old Guard" folded the flag as an Army band played "America the Beautiful." Army Vice Chief of Staff Gen. Peter Chiarelli presented it to Buckles' daughter, Susannah Flanagan.
"To our comrade in arms, Frank Woodruff Buckles, our nation bestows military honors," said Lt. Col. Keith N. Croom, an Army chaplain. "In life, he honored the flag. Now, the flag honors him."
Buckles lied about his age to enlist at 16. He died last month at his home in Charles Town, W.Va., at age 110.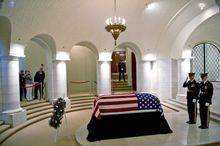 Before the burial, his body lay in honor inside Arlington's Memorial Amphitheater Chapel, guarded by an Old Guard soldier in full dress uniform. Hundreds of visitors filed by silently to pay their respects and snap pictures.
Around 3 p.m., after the public viewing was over, President Obama and Vice President Joseph R. Biden arrived by motorcade to pay their respects. They spent about 10 minutes inside the chapel and offered their condolences to Mrs. Flanagan.
Mrs. Flanagan had wanted her father to lie in repose in the U.S. Capitol, but Congress failed to approve that plan as politicians clashed over how best to honor Buckles and other World War I veterans. The last person to lie in the Capitol Rotunda was former President Gerald Ford.
Mrs. Flanagan and other invited guests at the burial did not speak to reporters.
Buckles' grave is on the side of a hill ringed by cedar trees with views of the Washington Monument, Capitol Dome and Jefferson Memorial to the north. At the crest of the hill, 50 yards away, sits the grave of Gen. John Pershing, under whose command Buckles served, along with a plaque commemorating the 116,516 Americans who died in World War I.
Dignitaries in attendance included Army Secretary John McHugh, Veterans Affairs Secretary Eric Shinseki and Sens. John D. Rockefeller IV and Joe Manchin III, West Virginia Democrats.
Buckles had devoted the last years of his life to campaigning for greater recognition for his former comrades, prodding politicians to support a national memorial in Washington. Only two known World War I veterans remain alive worldwide: Florence Green in Britain and Claude Choules in Australia, both 110 years old.
Born in Missouri in 1901 and raised in Oklahoma, Buckles visited a string of military recruiters and was repeatedly rejected before convincing an Army captain he was 18. He served as an ambulance driver in England and France, and after Armistice Day, he helped return prisoners of war back to Germany. He returned to the United States in 1920 as a corporal.
During World War II, he was working as a civilian for a shipping company in the Philippines when he was captured as a prisoner of war. He spent more than three years in Japanese prison camps in Santo Tomas and Los Banos.