The top U.S. military commander in Afghanistan told Congress Tuesday that his forces had made enough progress to justify starting a three-year withdrawal in July. But testimony from other officials made it clear that, even after 2014, U.S. troops will be in the country on an "enduring" basis.
"The momentum achieved by the Taliban in Afghanistan since 2005 has been arrested in much of the country and reversed in a number of important areas," Army Gen. David H. Petraeus told the Senate Armed Services Committee.
"However, while the security progress achieved over the past year is significant, it is also fragile and reversible."
Gen. Petraeus said that progress was "very important as I prepare to provide options and a recommendation to President Obama for commencement of the drawdown of the U.S. surge forces in July."
The gains of the past year have "put us on the right azimuth to accomplish the objective agreed upon at last November's Lisbon summit, that of Afghan forces in the lead throughout the country by the end of 2014," he said.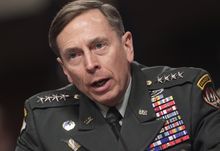 But testimony from Pentagon policy chief Michelle Flournoy made it clear that not all U.S. troops will leave the country, even after the transition of control to Afghan Security Forces is complete.
"Our nation has made that mistake before, and we are determined not to repeat it," she said, referring to the 1990s, when the United States, having helped Afghan insurgents defeat the Soviet occupation, abandoned the country to the bloody chaos that birthed the Taliban.
After 2014, "Afghans must stand in the lead, but they will not stand alone," Ms. Flournoy said, adding that Mr. Obama and Afghan President Hamid Karzai were working out the details of an "enduring strategic partnership beyond 2014."
Ms. Flournoy did not provide numbers, saying only that "some U.S. forces" would remain to train and assist Afghan police and military and conduct joint counterterrorism operations with them.
She said Mr. Karzai next week would publish a list of the districts and provinces that would be handed over to Afghan control in the first stage of the transition later this year.