Virginia Gov. Robert F. McDonnell with a stroke of a pen could compel school districts to require that elementary and middle school students receive at least 150 minutes of physical education a week.
Both chambers of the General Assembly this winter passed the legislation by wide margins out of heightening concern about problems associated with childhood obesity — a cause championed by both first lady Michelle Obama and Mr. McDonnell's wife, Maureen.
But the bill is getting increasing pushback, with opponents saying it constitutes an unfunded mandate by the state at a time when school districts are strapped for money.
Professional associations are adding their voices to a mounting cry for Mr. McDonnell, a Republican, to veto the stricter requirements.
The Virginia Education Association was joined by the Virginia Municipal League, the Virginia Association of Counties, the Virginia School Boards Association and the Virginia Association of School Superintendents in sending a letter to the governor Friday, urging him to reject the bill.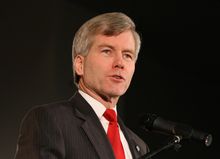 Rob Jones, a spokesman for the Virginia Education Association, said the PE minimum won't fit into elementary school days without schools tacking on extra hours. According to state code, schools must spend 75 percent of instructional time on core subjects, taking up all but 82 of the 330 minutes in the school day.
Subtract 30 minutes for the teacher planning session and another 30 minutes for physical education, or PE, and districts are left with 22 minutes for non-core subjects, Mr. Jones said.
"Implementing would de-emphasize music, art, computer instruction, foreign languages and library," Mr. Jones said. "The cutting has got to come from somewhere."
Increasing the need for PE teachers actually could lead to more being laid off, Mr. Jones said. He said officials in smaller districts have told him they would have to shift PE instruction to classroom teachers to meet the mandate.
A spokesman for Mr. McDonnell said Friday that the governor was still "reviewing" the legislation.
In recent years, Virginia school districts have been allowed to set their own minimum requirements for PE. Elementary schools would see the most impact because they tend to offer less PE than middle schools.
Prince William County currently requires two 45-minute PE periods every week for elementary students. In Arlington County, elementary students have 40 minutes of PE per week in kindergarten through second grade and 90 minutes in grades three to five.
In Fairfax County, elementary students' physical activity would need to more than double. Fairfax officials say the new rule would cost $18 million to $24 million and could lead to longer school days.
Chesterfield County officials estimate the bill would require an additional 102 elementary teachers and 35 middle-school teachers, costing $6.9 million, according to the letter sent to Mr. McDonnell. Pittsylvania officials expect to spend $800,000, and Louisa County officials anticipate an extra cost of $720,000.
Voting during the legislative session didn't seem to forecast the current pushback. Two senators, both Republicans, opposed the bill, and it passed the House on a 55 to 40 vote.