Federal agents arrested 130 illegal immigrants in Northern Virginia as part of the three-day sweep focusing on criminal aliens, U.S. Immigration and Customs Enforcement said Wednesday.
The arrests were the result of a multi-agency operation that concluded Tuesday and involved fugitives with convictions for such crimes as rape, assault, burglary and drug possession.
"If you come here lawfully, work hard and play by the rules, the United States welcomes you with open arms," ICE Director John Morton said. "For those who come here unlawfully and commit crimes at the expense of their neighbors and their communities, we will not rest until we find you and send you home."
The operation began with help from the agency's Fugitive Operations Support Center, in Williston, Vt., which conducted extensive database checks to help agents in Virginia target their searches, according to federal officials.
Agents used the information to go to last-known addresses and execute the arrests.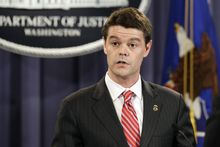 In all, 163 people were arrested, including eight fugitives and several others suspected in cases of re-entering the U.S. illegally. Some of those arrested were in the U.S. legally but lost that status after being convicted of a crime. Twenty-nine of those arrested were women.
Officials say the sweep included the efforts of the Virginia State Police, the U.S. Marshals Service and 10 local law-enforcement agencies.
Fairfax County had the most arrests with 60, followed by Prince William County with 37 and Loudoun County with 20. Alexandria had 13 and Arlington had 11.
"This ongoing effort underscores the importance of the partnership between U.S. and local law enforcement," Loudoun County Sheriff Stephen O. Simpson said.
Those arrested were from 32 countries in Latin America, the Middle East, Asia, the Caribbean and Africa.
"Despite the legal permanent-resident status of some of these individuals, their crimes clearly violated the conditions allowing them to legitimately remain in this country," Virginia Gov. Robert F. McDonnell, a Republican, said.
Among those arrested was a 21-year-old Mexican national and legal U.S. resident. He was taken into custody Sunday in Harrisonburg, Va., without incident. His criminal history includes convictions for third-degree sexual offense, for which he was sentenced to five years in prison.
A 39-year-old British national and legal U.S. resident was arrested Monday in Madison, Va. His criminal history includes a conviction for aggravated sexual battery of a child.
Those with outstanding deportation orders or those who returned to the U.S. illegally after being deported face immediate removal and could be criminally prosecuted.