Just as they did the last time the party captured the House of Representatives, Republicans are pushing a major overhaul of the nation's welfare system.
An influential group of conservative House Republicans have introduced a bill that would require a tally of the costs of some 70-plus federal anti-poverty programs so they can be managed — and trimmed — by budget hawks.
The new "Welfare Reform Act" further seeks to lower federal welfare spending to 2007 levels, sets new work requirements for food-stamp recipients and clarifies that welfare funds cannot be used to pay for abortions.
"Decades of experience prove we can't just throw money at the problem of poverty," said Rep. Jim Jordan, Ohio Republican, chairman of the House Republican Study Committee (RSC) and lead sponsor of the bill. "At the end of the day, the most effective welfare benefit is the one that leads to a job."
House Republicans Tim Scott of South Carolina, Scott Garrett of New Jersey, Dan Burton of Indiana, Louis Gohmert of Texas and Jason Chaffetz of Utah are co-sponsors of H.R. 1167.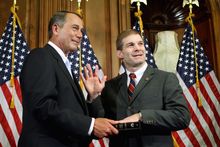 The bill builds on the landmark 1996 welfare law, written by the new Republican majority in Congress and signed by Democratic President Bill Clinton, who promised to "end welfare as we know it."
The 1996 reform, among other changes, set a 60-month time limit on federal cash benefits and gave states flexibility to run programs in exchange for generous-but-fixed block grants.
Between 1996 and 2008, the Temporary Assistance for Needy Families (TANF) rolls plummeted by 70 percent, from an average of 12.3 million recipients to 3.7 million recipients.
The rolls even fell during the 2000-2002 recession, but not during the recent recession: After 2008, the number of TANF recipients grew by 15 percent.
The TANF welfare-reform law expired in 2010 and is temporarily extended.
The RSC bill requires the president's budget to report current and future welfare spending from more than 70 anti-poverty programs. Data on state contributions to federal programs would also be required.
Once unemployment sinks below 6.5 percent, the bill caps welfare spending at 2007 levels, plus inflation. Private estimates say the rollback could save $1.4 trillion over a decade.
The bill also sets new work rules for the Supplemental Nutrition Assistance Program (SNAP). Recipients aged 19 to 62, who are able-bodied and not caring for a dependent adult, will be required to work or participate in other approved activities for up to 30 hours a week. States will have to verify that a portion of their SNAP caseloads (7 percent in 2013) are fulfilling the work rules.
The Agriculture Department, which runs the SNAP program, has long operated a work program for able-bodied adults without dependents. But states have been able to obtain waivers to escape the work rules, and the Obama administration loosened the process even further during the recent recession.
Heritage Foundation visiting fellow Katherine Bradley, who oversaw the TANF program in the George W. Bush administration, urged clear work rules for SNAP.