State blocks Taiwan arms
The State Department is holding up final approval of Taiwan's request for a multibillion-dollar arms package to upgrade Taipei's fleet of aging F-16 jets.
U.S. national security officials close to the issue said the arms package, along with a report to Congress on Taiwan's air power that is more than a year late, is being delayed by senior Obama administration officials, including Deputy Secretary of State James Steinberg, who are seeking to avoid a third rupture in U.S.-China military relations over Taiwan arms sales.
The report's delay is prompting at least one senator to threaten the expected nomination of Mark Lippert, a friend of President Obama, to be the new assistant defense secretary for Asian and Pacific security affairs. Lawmakers want the report, which the administration has linked to the F-16 upgrade deal, before allowing Mr. Lippert to take the strategic Pentagon Asia policy slot.
One administration official said the Taiwan arms and report issues are simply one of "timing" and that the lengthy delay in formally approving the F-16 upgrade package, worth an estimated $4 billion, forced arms sales officials to go back and re-price elements of it, causing further delay.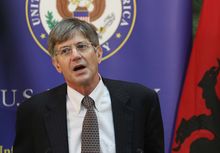 The official said the air-power study, required under the 2010 National Defense Authorization Act, is being held up along with the F-16 upgrade package because "you don't want to present a problem without a solution," referring to what the Pentagon has said is a rapidly shifting balance of air power in China's favor.
China's government twice in the past cut off military relations with the Pentagon over U.S. arms sales to Taiwan, most recently in January 2010 over a $6 billion arms sale.
The Obama administration and Defense Secretary Robert M. Gates have made improving military relations with China a key element of its military diplomacy. China's leaders, according to defense officials, have exploited that desire by trying to hold military exchanges hostage and forcing an end of arms sales to the island Beijing regards as its unconquered territory.
Asked about the delay, State Department spokesman Mark Toner said "no decisions on foreign military sales, including anything related to F-16s, have been made."
"Ever since the Taiwan Relations Act was passed, the entire interagency has been and continues to be involved in the ongoing process to evaluate Taiwan's defense needs, which informs the [U.S. government's] decisions on foreign military sales to Taiwan," he said.
Mr. Toner said it is inaccurate to say that State is delaying release of the Taiwan Air Defense study because it is a product of the Pentagon.
The Pentagon already signed off on the F-16 upgrade deal last year and agreed to put off an announcement until after the summit meeting that month between Mr. Obama and Chinese President Hu Jintao.
The arms package includes offers of new electronics, engines and missiles for the island nation's arsenal of 145 U.S.-made F-16 jets.
Chinese crackdown
Samantha Power, the White House National Security Council staff director for multilateral engagement, said this week that the Obama administration is stepping up diplomatic efforts against China over its major crackdown on dissidents.