D.C. Mayor Vincent C. Gray appointed a campaign supporter and Facebook friend, Cherita Whiting, as a $65,000-a-year "special assistant" in the Department of Parks and Recreation (DPR) in January after being warned months earlier that she had not disclosed a prior felony conviction when she applied for previous city council employment, according to an e-mail obtained by The Washington Times.
The e-mail's author, who asked not to be identified because he was not authorized to speak publicly on the subject, confirmed bringing the matter to candidate Gray's attention because of concerns that undisclosed criminal convictions involving one of Mr. Gray's most ardent supporters and vocal opponents of Mayor Adrian M. Fenty could harm the campaign.
"Vince was shocked to hear about the convictions, he is going to pull the paperwork from her employment application to confirm that she did not include the felonies," the Gray supporter wrote in an e-mail to a friend in July. "He was quite upset when I spoke with him about this, like he felt duped by her."
The source said he warned Mr. Gray so he could avoid controversy, and that Mr. Gray indicated he would address the matter with Ms. Whiting's employer at the time.
On Tuesday, Council member Phil Mendelson, an at-large Democrat who hired Ms. Whiting earlier last year as an administrative assistant, confirmed that he spoke last summer with Mr. Gray, then the council chairman, about Ms. Whiting's criminal past, but he declined to elaborate.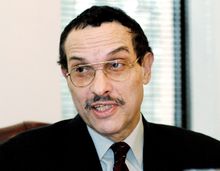 Despite being handed a packet of information that purported to document Ms. Whiting's criminal record, Mr. Mendelson said he never verified the information or spoke with Ms. Whiting about it and never inquired whether she lied on her job application. He could not say whether Mr. Gray inquired further about the application.
"She was already on board," Mr. Mendelson said. "Most of the people I interview come in with a resume. I did not think about extraneous documents that might have been filed with human resources."
In January, Ms. Whiting left Mr. Mendelson's office after Mr. Gray tapped her as a political appointee for the DPR job, where she reports solely to the agency's chief of staff, John Stokes. The Times has requested copies of Ms. Whiting's job applications, but Council Secretary Nyasha Smith said the personnel file has been transferred to the Department of Human Resources. The file was transferred a day after The Times first reported on Ms. Whiting.
Human Resources officials have referred all inquiries to Mr. Gray's office, which has not disclosed the employment applications.
Ms. Whiting confirmed in an interview last month that she did not disclose her most recent felony conviction to her employers, saying, "Those who know, know, and those who didn't, I felt didn't need to."
Neither Mr. Gray nor Ms. Whiting returned calls for this report.
Employment with the D.C. Council or any city agency requires applicants to complete a DC2000 form, which asks, "During the past 10 years have you been: 1) convicted of or forfeited collateral for any felony; or 2) convicted by a court martial?"
Ms. Whiting told The Times she never disclosed a July 3, 2001, guilty plea she entered in federal court in Virginia to wire-fraud charges that stemmed from her diversion of funds from a private company where she worked as a payroll manager. She was sentenced to 22 months in federal prison and was ordered to pay more than $100,000 in restitution, according to federal court records.
In the 1990s, Ms. Whiting was charged multiple times with fraud, forgery, passing bad checks and theft, according to Maryland court records. In 1994, she pleaded guilty to theft, was placed on home detention and probation and was ordered to pay back $50,000 to a homeowners association, the records show. In 2000, she had a $14,000 federal tax lien assessed against her.
The DC2000 form instructs applicants to disclose details of criminal convictions within the previous 10 years and requires applicants to sign the form where it reads: "I understand that a false statement on any part of my application may be grounds for not hiring me, or for firing me after I begin work. I understand that the making of a false statement on this form or materials submitted with this form is punishable by criminal penalties."